I live in the state with the second smallest population in the US. It is fairly rural, as you might imagine, but it does have one town that we call a city. I have decided to move into that thriving metropolis to come out of the woods and join my fellows. Moving requires packing and transporting all these books and discs. O my O my. What was I thinking? One fascinating aspect of packing is putting things away in boxes then forgetting what exactly is in which box. Where'd I put that early DVD version of Phantasm, which suddenly I feel is vital for the review I am writing today? Couldn't say. On the upside, you unearth buried treasures, like that Nativity in Black II CD which, for reasons unexplained, is selling for around $50 on a number of websites. There're good points and bad points is the point. To moving. All I'm saying. In between these points is an elevated level of stress. Thank god there are a couple of new Blu-ray boxsets that have arrived since the packing began to keep me distracted.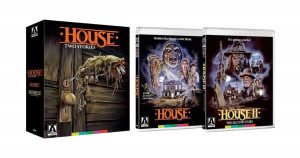 House. Arrow Video is a top shelf company that takes great care in the restoration of horror films and the production of their video releases. Its production values surpass its closest competitor (Scream Factory) in every way, from the quality of the transfers to the creativity of the box sets themselves – the House set at hand, for example, includes a hardcover book of photos and information about the two movies in the set. Arrow releases are more expensive but then you get a lot more for you money so it is always worth it. Arrow's box set for the House franchise only includes the first two films, even though there are four in the series. This is a good decision as there was considerable drift after the second installment. The transfers are due to a beautiful 2K restoration (yeah, I know 4K is what you always hear about, but 2K cannot be reasonably improved upon given the source material). The first film is a haunted house story that stars Kay Lenz and has a Harry Manfredini soundtrack. I can comfortably rest my case right there. Still, I feel compelled to mention it is Steve Miner's third film, following Friday the 13th 2 and 3 in case you don't remember that, and it is one of the best examples of a humor-infused fright film that does not turn the corner into complete goofdom. House is well-known and fondly remembered among horror fans so this release sells on its own merits. The second movie, perplexingly titled House II, is less well remembered, and is quite different from the original. Directed by Ethan Wiley, the second installment is not as much a horror film as a comical buddy quest movie involving a magical skull. Think of it this way: the second movie is related to the first in the same way Halloween III is related to the first two Halloween movies. It is a good film as well, and as nice as it is to have both these together for nostalgic reasons, they really do not have anything significant in common apart from the titles. Even so, they somehow, against the odds, go together well. Recommended.
Wishmaster. Let's start the commentary by noticing that the edge of the Blu-ray box has the Vestron Video logo on it. You have to be my age or older to remember Vestron Video. They distributed a lot of horror films on VHS and CED back in the day, and even had a number of mainstream movies and original productions. I used to buy/rent movies based upon nothing more than Vestron releasing them. Now, Lionsgate owns most of the movies Vestron used to control and have started a line called the Vestron Video Collector's Series. This is bizarre for at least two reasons. First of all, it is a deep pull. How many people remember Vestron anyway, besides old completest like me? Probably not many, so branding a line with "Vestron" does not seem like the kind of move that will start a consumer stampede. Second, movies like Wishmaster, the very subject of this section of the column, were never released by Vestron in the first place, so why in the world are they in the "Vestron Video Collector's Series" now? Mysteries abound. But I digress, and besides I am delighted to see Wishmaster on Blu-ray. The first film in the series is unsurprisingly the best, and the subject – Djinns – is one not dealt with enough in horror cinema. Like ghouls in that way, underrepresented in monster films. A Djinn grants you three wishes and is in turn released from your servitude. They can give you anything, but they always mess with you, interpreting in the worst possible way what you said you wanted, always bringing you maximum suffering. People are greedy, though, and they never take good advice and are slow to learn from their mistakes, so there are a lot of opportunities for torment and gore at the hands of a Djinn. The movie itself, the first one, is well-written and well-acted, with several delightful cameos from recognizable horror film veterans. It's a tight 90. The other films are not as good, but the series holds up as it moves along better than many other franchises. Specifically, I would put the later Wishmaster films way ahead of the later Howling, Child's Play, and Hellraiser films, just to name a few. This is an excellent set at a good price. Highly recommended.
All right, time to go. Next time I'll chew a few hundred words on the Phantasm box set, spend some time on the new Mastodon concept album, and maybe even read a book – a perfect mix for Spring.
******************************************************************************
Nightmares Illuminated is written by Wayne Edwards, ©2017 by the author, all rights reserved. Contact eMail: [email protected]
Twitter and Instagram: @we21011
Flying Fiddlesticks: http://flyingfiddlesticks.wordpress.com/ (sleeping right now … check back soon)
Trip Cadence: http://tripcaden.livejournal.com/ (also in slumber for the short meanwhile)