Back to the jam, brothers and sisters. I had a nice, long break. Lucky there, huh? I hope all you Reader People had some kind of wonderfulness during the holidays and that you are not too blue about the new year. Sure, another one is gone but this is a new one. We have to keep the party going while remembering that [*blank*] (alcohol, maybe, or what have you not), although essential, can work a limiting effect. Enjoy, embrace, but don't get lost.
As always, I had too many good books to read this time. So let me shoehorn in a little music at the front, just to make things a touch tighter.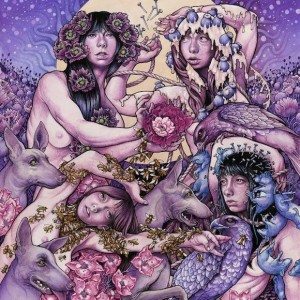 With the new Baroness release, Purple, the evolution continues. Back with The Red Album there was something that seemed different in the heavy music. A tasty perspective, a new, finicky twinge. Blue Record was a surge, and I always think of Yellow & Green (my favorite in the catalogue so far) as doomy. Looking back, you can see the arc that was invisible while it as happening. Now, with Purple, Baroness is in danger of going full Volbeat, but not in a successful way. No, more like the shuddering amble of a failed parade toward Five Finger Death Punch or the less energetic Disturbed. If I had never heard their early albums I would probably like the new one better. But let's be positive and support Baroness because they are still one of the good ones and what we (I, anyway) want is for them to succeed and continue the arc toward a new land all their own.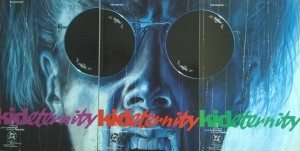 Kid Eternity has been collected in its three parts together in a deluxe edition. Always a big fan of this mini-series, I am delighted more people will get to read it now. The publisher's description: "Meet Kid Eternity, a teenager with supernatural powers and the ability to bring back the dead—a gift from the powers above for being taken by death ahead of his time. Now the free-spirited kid is back as an agent of Chaos in a world that's too ordered for his taste. Using chaos magic to elevate humanity's existence, he finds a path paved with demons, death and madness!" I didn't remember it exactly that way so I got my old originals out (see photo) and read it again. OK, I guess the publisher is mainly right after all. I don't often say this, but hear me now: the experience of reading Kid Eternity does not depend very heavily on the plot or even the writing, as such. The artwork (thank you Duncan Fegredo), and especially the layout of the pages, blend in an otherworldly way with the writing (thank you Grant Morrison) for a rare effect. By now, I've gotten  rid of most of my comics and graphic novels. I have only kept the ones I expect to read again, the ones I enjoy the very most. Kid Eternity is among them. If you haven't read it yet, or if you are a big fan of the original release, go pick up the new edition. Highly recommended.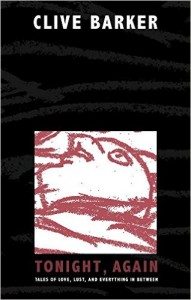 Clive Barker, Again Tonight: Tales of Love, Lust, and Everything In Between. This little volume, released recently by Subterranean Press, has quite a lot of what we might expect from the combination of the title and the knowledge that Clive Barker has written it. A generous helping of penises, for example. From page 26, "Thick and wet and purple-red its phallus throbbed against its heaving belly, while glistening juice ran from the fat head." Indeed. Pictures of penises as well, drawn by the author, eight or nine of them. The book is about lust, and love, and we know Barker is not shy, so these we did expect. The other, more important, characteristics we also expect from Mr. Barker are innovative ideas and executions. All of the pieces are short, and to my delight five poems are included. Now, listen, this is certainly a minor work from Barker, but for fans it is a happy discovery. Not too much broad appeal here I wouldn't think, but that is why this short run presentation is the perfect mode of delivery. Recommended for people like me.
OK, three more quick ones…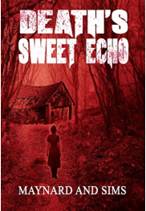 Len Maynard and Mick Sims's new book is Death's Sweet Echo: 13 Ghost Stories and Strange Tales. The title tells it all, wouldn't you say? I am not sure how it is possible, but I had not heard of this duo prior to this book being released. Despite my lack of awareness, these gentlemen have been at it good and hard for decades (http://www.maynard-sims.com/index.htm). They have published seventeen novels and eleven short story collections, plus a multitude of other literary items. Seasoned, you might call their writing. The strength of their narratives is the easy and comfortable way the words go down when you read them, more like hearing them than seeing them. This is a good book of ghost stories for a rainy weekend in the Spring.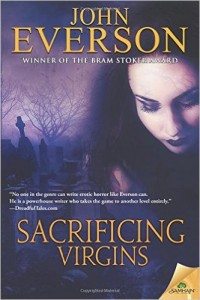 John Everson's Sacrificing Virgins is a collection of twenty-five short stories out now from Samhain Publishing. It is an excellent grouping of newer pieces – nearly all from the past ten years – from the always reliable Everson, a writer who has been providing us all with intense distractions for at least a couple of decades. This collection is a good friend to have when traversing the country by airplane, as I have been doing lately. You can read a story here and there. If you start one and it doesn't hold your attention for one reason or another, flip forward or back a couple and there'll be one that surely does. Pack it in your carryon.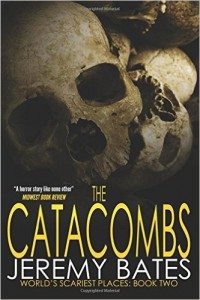 Jeremy Bates's The Catacombs continues the "Scariest Places in the World" series, which is an ambitious idea of writing horror novels set in a variety of creepy real-world locations. Actually, that is a pretty good idea, isn't it. This entry is a solid adventure novel, expertly paced and organized to maximize suspense. And let's face it, any story taking place in Les Catacombes de Paris will be steeped in the weird. It is worth a look.
That is going to have to do it for now. I hope you are all watching season ten of X-Files. I will have thoughts on it next time.
******************************************************************************
Nightmares Illuminated is written by Wayne Edwards, ©2016 by the author, all rights reserved. Contact eMail: [email protected]
Be the first to follow me on Twitter and Instagram: @we21011