O fuck me, did you see what happened on November 8? Really, ladies and gentlemen, there is nothing I can say that would express my revulsion and horror adequately and, so far as I know, there has never been a movie, book, story, poem, song, or interpretive dance that is as frightening or sickening as the United States electing an openly racist, misogynistic, xenophobic billionaire as president. The only bright side I can conjure is perhaps I will leave this world before he takes office. I sure hope so. I know that will not help any of you out there in readerland but my pain will be over. Meanwhile, if the war comes and I am still alive, I will happily head to the line. For now, though, I am just reading and watching. And shrieking and weeping.
Where have I been? I know recent events are more interesting, but in case anyone has been wondering, I have been off line writing a book. It is a depressing book and its subject is not appropriate for this forum but it is the reason I have been away. The good news is, whenever I could not think of something to write, I picked up a book and read. So let's get started.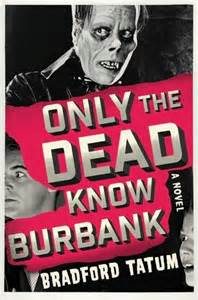 The new novel from Bradford Tatum is Only the Dead Know Burbank (Harper Perennial). It has a fascinating premise. Apparently, there is a story that has been retold so often it became a legend in Hollywood about the original set for the silent version of The Phantom of the Opera. The set is haunted, the story goes, by a little girl. Tatum's novel fleshes out the background and the significant incident surrounding the mythical girl and her contributions to Hollywood movie-making. This little one, Maddy, was born in Germany to a mother who was an occultist. Poor Maddy succumbs to an illness and her mother drags her back from the dead through dark witchery. No longer dead, Maddy is transformed into an undieable being who does not age and, in fairly short order, begins to monetize her new reality via freakshow performances. She gets to Hollywood on the strength of her rumored abilities and is embraced there amongst the horror movie makers. At this point in the story, Tatum has set up an incredible luxury for himself – he starts interacting his character Maddy with beloved historical figures from the golden age of horror film: Lon Chaney, James Whale, Tod Browning… This novel is just so much fun to read for people who love old horror movies (like me) that the plot doesn't really even matter. I am happy to report that Tatum's writing is quite good and having read this one I will look up his earlier novel (I Can Only Give You Everything) and also cast about looking for the film projects he has worked on. This is a wonderful book to bring me back into the world. I am lucky to have picked it up. Highly recommended.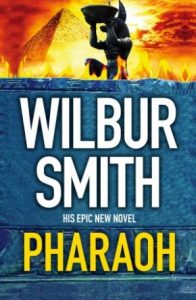 Wilbur Smith is a machine, a writing machine. The new book in his "The Egyptian Series" is Pharaoh (William Morrow), and if you liked the others, well, this one will be right up your alley. The prose is 20% over-written, stressing itself as it does, but as a magical fantasy it works just fine. I read about half the book on airplanes and when finally I landed I felt like I needed to finish the story – I do not always feel that way about airplane books so this is a ringing endorsement. Now in his 80s, I do not know if Smith is still writing these books or not, but I enjoy them the same way I enjoyed all those "Richard Blade" books written by "Jeffrey Lord." Sometimes cotton candy hits the spot.
I wanted to talk about movies this time too but I only have enough space left for a little rampage about digital media. I will lead with movies next time. Deal? OK. I have been using Vudu for some time as my UltraViolet provider – you know when you buy a DVD or Blu Ray and it comes with a digital copy, nowadays they are mostly UltraViolet (brand name) digital copies that you can get through either Vudu or Flixster (there are several new avenues that have opened in the past couple months, too, but I cannot talk about everything). So I have been loading up Vudu on my computer and I noticed that when I get to 800Gb or so the performance really tanks. I contacted Vudu a number of times and their "fix" amounted to uninstalling everything – including the 800Gb of content – and starting over. The problem is, the same thing started to happen again as more content was pumped into my machine. Here is what I finally did. The UltraViolet library is (mostly) shared across Flixster and Vudu – you can download most UV movies on either player. I did a half and half, split between Vudu and Flixster. It works. You're welcome. No more hang ups, no more delays, no more buffering, no more restarts. Now, I have come to know ("it has been given me to know") that you youngsters out there mainly stream content instead of downloading it…at least that's what my 17-year-old does. Streaming is a bite in a hot moldy banana. I have anger issues connected with streaming. It is poor quality and it is unreliable. Stop it people. Stop it. Pony up for the disc or pay for the digital files and download them. Let's behave like humans, shall we, and not like beasts in the field?
All right then, that's all the damage I can do this time. You haven't rid yourself of me yet, though. I will be back. And no more hiatuses. It is art for its own sake now. I am all in.
#TheResistance
Nightmares Illuminated is written by Wayne Edwards, ©2016 by the author, all rights reserved. Contact eMail: [email protected]
Twitter and Instagram: @we21011
Flying Fiddlesticks: http://flyingfiddlesticks.wordpress.com/ (sleeping right now … check back soon)
Trip Cadence: http://tripcaden.livejournal.com/ (also in slumber for the short meanwhile)