It is hard to know what to make of the world anymore. The World Series was a dramatic rollercoaster. And the Super Bowl, too. Who could have predicted that game, eh? Don't even get me started on the election. Hoo boyee. And now the Oscars. How are we to know what to expect from any given day when wild long-shots keep roaring at us, one after the other? In our minds, are we making things out to be worse than they really are at their core, or is it the other way around – are we putting a rosy light on Armageddon? It hurts my brain trying to make sense of all this. But there is some good news: there are always new books to read, music to hear, and movies to watch. They take your mind off the madness for a while. Welcome respite. Let's take a quick look at one book, one movie, and one band.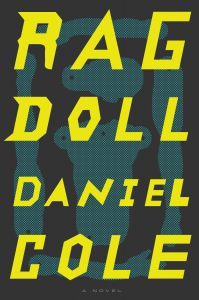 Ragdoll (Ecco / Harper Collins, April 2017) is the first novel by Daniel Cole. A police procedural, it follows the grim activities of the Ragdoll Killer, a serial murderer who kills several people and sews parts of each into a single doll. More accurately, the story follows the investigation into this crime, and the very specific threat the killer makes about creating a new ragdoll. Cole is starting a series here with his character William Fawkes, "The Wolf," so he is building a stayer for future books while he is telling this story. You can't help but think as you are reading along through the fascinating details that some of these things are going to come up again later in the series. The London setting lets readers in the US take a vacation to a faraway place where society runs a little differently. That is a nice bonus since, after all, we are reading for entertainment and to escape. Cole's writing style is a bit ponderous, but once you settle in it becomes at times a comfort and at other times a tension-building menace. Drawn in quickly, I finished this novel in one pass, and at the end I wanted to know more. This one is a keeper, and Daniel Cole is a name to look for from now on when you are browsing through the new releases. Recommended.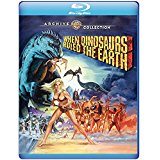 After Ragdoll had wound me up some I wanted to kick back, so I sorted through the stack of new Blu-ray releases and whittled the candidates down to two: When Dinosaurs Ruled the Earth (Warner Archive Collection 2017) and Bad Santa 2 (Broad Green Pictures 2017). The dinosaurs won out. Tell me, will you, what is not to love about stop-motion dinosaurs combined with dressed up baby alligators fighting small monitor lizards in make-up. Exactly. I have always enjoyed this Hammer film from 1969, and the Blu-ray treatment is well done – the image looks great and the sound accurately relates all the grunting and nonsense pseudo-language present in the original. It is worth mentioning that this release is of the international version which includes the brief scenes of nudity clipped from the original US run of the film. The movie is a direct take-off on the Raquel Welch vehicle from 1966, One Million Years B. C. (recently released by Kino Lorber in an excellent package), which had effects created by Ray Harryhausen. That earlier film is perhaps the better one, but Dinosaurs Ruled isn't far behind. I understand it is somewhat juvenile for a man of my advanced years to still take so much pleasure in these silly fantasy movies, but that is just the way it is, people. I love 'em. The only people buying these discs are probably those already fans of the films, so getting the higher resolution and long-lasting format is where the value lies for us. Highly recommended. And keep an eye out for The Valley of Gwangi, Harryhausen's cowboy dinosaur film, due out in a week or two from Warner Archive. That's right, you get to see dinosaurs lassoed. Insert golf clap here.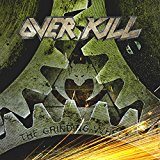 Having read a good book and watched a good movie, it was time for some good music. How to choose, how to choose…with so much out there, I decided to go with a band I had liked a lot but had not listened to closely for a while. Overkill has a new set out called The Grinding Wheel (Nuclear Blast 2017) that fit the bill perfectly. In case you don't know, Overkill is usually described as a thrash band that started in the mid 1980s, although they have created a variety of heavy music since their beginning. The new studio album is there 18th (depending a little on how you want to count) and it is a lot better that I expected it to be. After all, how many riffs can you have in you? How many songs can you write? Thirty years on, the band has changed a lot, but Overkill continues to deliver what its fans want. The Grinding Wheel, if anything, is a step up from The Electric Age (Nuclear Blast 2012) and White Devil Armory (Nuclear Blast 2014). Fast and heavy, these songs power on like no time has passed at all. I became so enthralled with the album, I started flipping through the back catalogue and have since rejoined the maniacal hordes who follow the band. They are on tour right now in the US and I have to find a way to see them live before they head off to Europe this summer. Pick up this new one, then start filling in the blanks with their other releases. Highly recommended.
Time is up. It is below zero here in the North Country on a sunny day in March, and I have to get back to reading. Support artists of every stripe. Their work helps keep us sane. Maybe next time I will finally get around to the Cronenberg retrospective I have been thinking about for half a year.
******************************************************************************
Nightmares Illuminated is written by Wayne Edwards, ©2017 by the author, all rights reserved. Contact eMail: [email protected]
Twitter and Instagram: @we21011
Flying Fiddlesticks: http://flyingfiddlesticks.wordpress.com/ (sleeping right now … check back soon)
Trip Cadence: http://tripcaden.livejournal.com/ (also in slumber for the short meanwhile)