I had a plan. But, how does that go, the best laid plans of men and mice only seldom work out nice? Something like that. Anyway, too much stuff to cover this month so I am going to skip the witty opening riff and jump right in before my thousand words evaporate.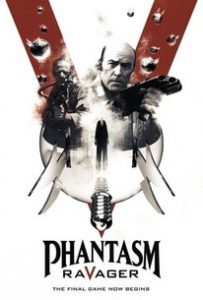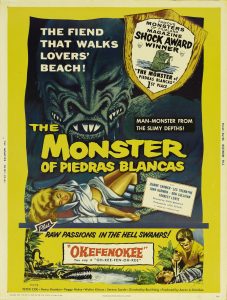 I am going to do a Cronenberg review next time (we'll see about that, eh?) but I only have the space for one movie now and that has to be the final entry in the Phantasm franchise, Phantasm: Ravager. An imagination stretch is really not required to guess I am a fan of these films, particularly since I have mentioned them fondly in the past. It is true the films declined rapidly in quality since the original, but you see that a lot in series. I stuck with them all the way, even Phantasm III, the goofball escapades; even Phantasm IV where we learned that there is not really any plot at all and the "world" the films exist in has no rules. Ravager, facing its predecessors, achieves a new low in the what-the-fuck-is-going-on-here trajectory. More clarified writing might have led to a memorable finale for the film series and for the actors, especially Angus Scrimm who developed a character, the Tall Man, almost as memorable to Phantasm as Pinhead is to Hellraiser. It was a sad send-off for Angus, and not a very good showing for Reggie Bannister, either. The whole thing is so convoluted you cannot even accuse it of being contrived. Color me bummed. I have one eye on The Monster of Piedras Blancas while I am writing this – the lovely Olive Films Bluray release – and the horrible acting plus ridiculous story in this 1958 drive-in middler is down-right brilliant in comparison to Phantasm: Ravager. Just thinking about it is turning my mind dark. I have to put some music on to get the taste out of my brain.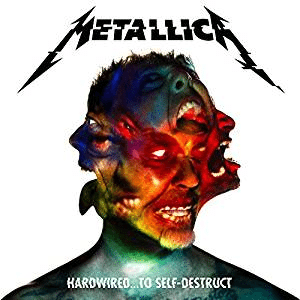 It has been a while since Metallica released new studio work, but now we have Hardwired: To Self-Destruct. It is in the main an aggressive album, with four stand-out tracks I will be listening to for years to come: "Spit Out the Bone," Atlas, Rise!" "Moth Into Flame," and "Lords of Summer," that last one coming from disc 3 in the deluxe edition. The rest of this long set is hit-and-miss. The Ronnie James Dio tribute medley is fantastic, but the song honoring Lemmy Kilmister, "Murder One," is dreary and plodding, the farthest thing possible from the Motörhead canon. The "Remember Tomorrow" cover (Iron Maiden) is great, but I could have easily done without the "When a Blind Man Cries" cover (Deep Purple). Songs like "Now That We're Dead" and "Here Comes Revenge" are solid pieces that I like, but when they come on I busy myself with something else rather than stopping everything to listen. I am coming down harder on Hardwired than I intended to – it is a good Metallica album and very much worth buying and hearing. Also, there is a good chance this will be the last significant studio work from Metallica. Pick it up, and see them on tour – I'll be covering their summer tour so maybe we'll see each other out there. Most of the bands I have listened to my entire life are passing out of view now, but that is the way of things and there are great bands working now and new ones emerging all the time. Metallica is special. Let's see them and support them while we can.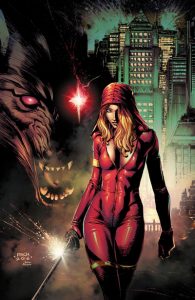 Grimm Fairy Tales wrapped a long and successful run some months back. I paused for suppressed sniffle at the time. I always liked that book. Now, Zenescope has unveiled the rebooted series. Skye Mathers has taken over her mother Sela's job of Guardian of the Nexus (of the four realms in the Zenescope universe). Otherwise, we are dealing with very similar set-ups seen in the earlier series. Written by Joe Brusha and penciled by Ediano Silva, #1 delivers what fans of GFT are looking for. The story is self-contained and the preview informs us we are moving on to the Snow Queen with #2. The reboot is starting well. We'll have to keep an eye out to see how things develop. The publisher has always been reliable in the past so I have high hopes. Recommended.
Speaking of reliable comics publishers, IDW's Godzilla: Rage Across Time is available in a trade paperback. As I sit on my hands waiting for Shin Godzilla to get a US home video release (because I missed its 10-day US theatrical run), I have to have something to hold me over. I have enjoyed the earlier Godzilla books from IDW, especially the big lizard's recent trip to Hell. I bet you can guess from the title what is going on in Rage Across Time. The Big G pops up in different places at different times. The artwork is varied in each of the five issues to support the concept of different places and different times, and this approach works quite well. The Bob Eggleton covers make buying the book a necessity even if you don't like the stories, but for me, even though the idea of Godzilla is not particularly deep in and of itself, the entire package comes together nicely. I rank this one a touch below the previous series but the comparison is a little unfair since the trip to Hell was a stunning achievement. It is too much to expect that every time. Recommended.
That's it for 2016, gentlemen and ladies. Next up is the New Year's Day edition, wherein I will be very cheerful and positive, which will be a nice change from my Twitter feed. I fully expect the world to end in 2017, but just in case it doesn't, I'll keep writing.
******************************************************************************
Nightmares Illuminated is written by Wayne Edwards, ©2016 by the author, all rights reserved. Contact eMail: [email protected]
Twitter and Instagram: @we21011
Flying Fiddlesticks: http://flyingfiddlesticks.wordpress.com/ (sleeping right now … check back soon)
Trip Cadence: http://tripcaden.livejournal.com/ (also in slumber for the short meanwhile)