Well now, staring down the barrel of Halloween on the one hand and yet another Monday right after that on the other, I am feeling surprisingly upbeat. I have been living in two different places for a couple months and I find myself sometimes confused about which state I am in and what I am supposed to be doing. But, you see, that is what happens when you live in a rural place like the Green Mountains – sometimes you have to travel long distances for work, venturing as far as that concentration of humanity, Connecticut, on occasion. It's always a gargantuan relief to get back to the cool north every week, and I get to enjoy returning for a day or two before the dread of heading south starts to creep in. Maybe I should meditate in order to moderate my mood. Naaaaah. Takes too much time. Thank god I have books to read. I might otherwise become depressed.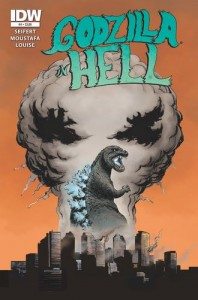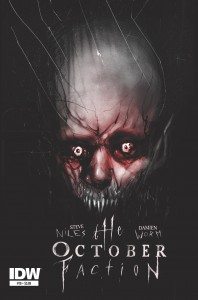 Let's look at the picture books first, shall we? I can't help it, folks, there is no way I can quit IDW's astonishing Godzilla In Hell book. #4 has the big guy battling Destroyah and King Ghidorah. At the end of the dialogue-free issue, the Lizard King breaks through a barrier and sees … something. What could it be? The book wraps up with #5 next month, and I have my fingers crossed for a Giant Monster All Out Attack on Satan. If it goes another way, then I don't know what this has all been about. While I am on IDW, another great book they publish I have been reading is Steve Niles's and Damien Worm's The October Faction. The story follows a monster hunter, now retired, who has neglected his family over the years and feels bad about it. His attempts at reconciliation are complicated by all the enemies he has made over the years. It is an on-going monthly (#9 is the latest) that combines a good deal of humor with the horror and exceptional artwork. I am not an over-the-top fan of humor in horror, but the measure is right in this one and the comedic elements are clever. I give both these books the highest marks.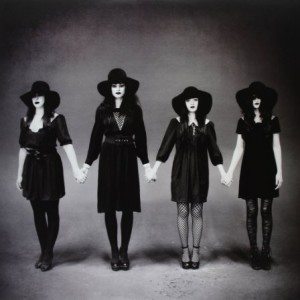 I don't know how it happened, but I came to know of the Black Belles, the sometimes-quartet trio of women who prefer Victorian garb with fetching witchy black hats. They sound a little bit like The Reverend Horton Heat at half speed. With Female vocals. And a horror theme. And a Murder City Devils organ sprinkled in. Also, their debut album (self-titled) is on Third Man Records, so they have to sound a little bit like what Jack White likes or that'd be a no-go, I'm guessing. There are plenty of happy, peppy simple guitar hooks to draw you in where you are then massaged by the gently warbling of the lead singer's voice telling you very strange stories. It is a fantastic combination and a great treat for Halloween that you will be glad to listen to after, too. Highly recommended.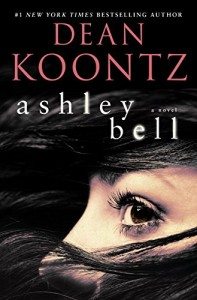 Speaking of Dean Koontz, his newest novel is Ashley Bell. I've been reading Dean Koontz novels since The Servants of Twilight (1984) and I have never been disappointed. It is hard to think of another writer who builds suspense – and maintains it – better than Koontz. Supernatural or not, he always keeps you right on the edge. The main character in the new novel is a young woman named Bibi who gets the bad news that she has a terminal illness. Ever positive, Bibi survives the sickness, miraculously, and – events, events, events – becomes convinced that she lived for a reason after getting that news from Calida Butterfly, her masseuse/psychic. Using a very creative form of divination, Calida reveals that Bibi is meant to save the life of Ashley Bell, but no other information is forthcoming. And there you have the rest of the book. Another solid novel from Mr. Koontz, Ashley Bell has all the elements you expect from a prolific, talented writer.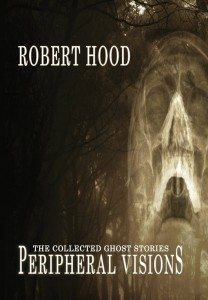 Another book I read this month is Robert Hood's Peripheral Visions, a collection of his ghosts stories. Hood is an Australian writer, and not all that well known in the US. That makes running across this gigantic collection like discovering a fat vein of gold in grey stone. The book itself arranges the stories thematically for easy digestion based upon the reader's mood. Still, the Hoodness lives in each one no matter the theme; the odd histories of the characters, the straight-forward dialogue that is somehow at the same time the farthest thing from mundane, the weirdness. This book is an opportunity, ladies and gentlemen, to find something new that you'll be glad you uncovered.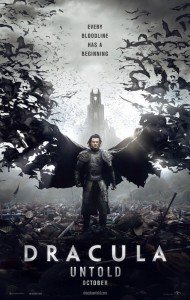 It would be peculiar, wouldn't it, to close a Halloween issue without saying a word about horror movies. Let me pull something off the wall and out of my hat (the hat's on the hook over there, see). The last movie I watched was Dracula Untold. Never heard of it? Well, it did eat shit at the box office. It did have a good opening weekend, but the word of mouth killed it. Basically, it is an origin story of Dracula, and leans more on the historical drama side than the throat-ripping vampire side. It was not what people were expecting and so they were disappointed. I felt the same way at the end of it. And I continue to wonder now for whom this movie was made. What was the target audience? It is not badly made, it was just wrongly sold. So don't watch this on Halloween, watch it instead on November 15th. You'll like enjoy it more that way.
All right then. Time for me to go knock over a few 4th graders and steal their Halloween candy. Enjoy the Fall. O wait! Tattoos! I want to get another tattoo. Email or tweet your suggestions to me. Be nice. I like animals and demons. Send pictures. OK.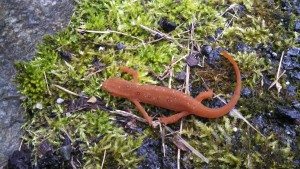 ******************************************************************************
Nightmares Illuminated is written by Wayne Edwards, ©2015 by the author, all rights reserved. Contact eMail: [email protected]
Be the first to follow me on Twitter and Instagram: @we21011