K&R stands for Kidnap and Rescue.  K&R professionals are hired to retrieve kidnapped executives on foreign soil, they also train executives on how to remain safe. Quantum International Security works outside the standard law enforcement channels in order to infiltrate and insure the safe return of hostages whether it is overseeing the ransom exchange or a precision extraction, Quantum is able to go places local or federal authorities are incapable of.
Thea Paris is a member of this elite circle of 25 highly trained professionals.  She has intimate knowledge of this world as she watched her brother being taken from her billionaire father, oil magnate, Christos Paris's estate. She was the intended target and because of that, she has dedicated her life to rescuing others.
THE F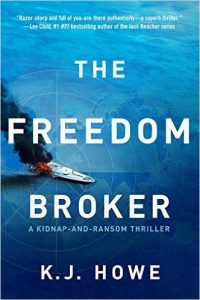 REEDOM BROKER opens with Thea and her team extracting a hostage from a rebel camp in Nigeria where Howe deftly introduces the team and major players in the story. Each member of the team is highly trained and fearless.  Thea has a secret though, she is diabetic and has kept this information from the team.  As the only woman in this male dominated world, she must be twice as strong and twice as competent and, as such, she guards her secret fiercely.
Rifat Askar, the boss's son, is skilled but reckless. Thea has known him since childhood but is wary of his disregard for protocol and nearly gets the team killed during the
Nigerian operation.
When they return from their mission, Thea leaves to celebrate her father's 60th birthday.  On the day of the event, her father is kidnapped from his yacht while Thea is on a run.  Her sole focus is to bring her father home safely and shield her brother from any psychological fallout from the kidnapping.  She is taunted by Latin texts, but no ransom demands, from the kidnappers. Thea and Rif grudgingly accept the assistance of former CIA agent and current US Hostage Recovery agent Gabrielle Farrah and Greek Inspector Maximilian Heros, keeping them on the periphery of the investigation while pursuing their own leads.
From the island of Santorini to the oil rich fields of fictional Kanzi Africa, Thea and Rif track down clues to her father's location while simultaneously attempting to keep open negotiations for an oil deal that could net Paris Oil billions.
Howe has done her research.  Her writing is tight and the situations and her characters come to life.  It's hard to believe this is her debut novel.  Howe doesn't fall back on standard thriller tropes; the story is fresh and unique.  Thea Paris is a female Rambo, strong and resilient and this reviewer appreciates that Howe doesn't fall into the "romance" trap.  The action in the story keeps you on the edge of your seat and you don't see the twist at the end coming.
I highly recommend this novel.