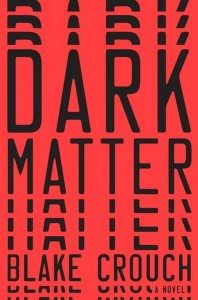 Many of you may know Blake Crouch from the WAYWARD PINES series of books. In DARK MATTER, Crouch takes time travel to a whole other level.
Jason Dresson doesn't have the perfect life, he left a brilliant career as a physicist to raise a family and take care of his son but he's happy. One day, after visiting a friend at a corner bar, he is kidnapped and taken to an abandoned factory. He's drugged and the last thing he hears is a cryptic message from his abductor, "Are you happy with your life?"
Dresson wakes up to a world that is slightly off-skewed from the world he knows. Dresson is living the life he would have had, had he not married and started a family. He slowly comes to the realization that something horribly wrong but doesn't see a way out.
In this mind-bending, science fiction thrill ride, Crouch brings the reader into the world of quantum physics, time travel and alternate realities.
To say more would be to give away the secret of DARK MATTER. After reading this novel, I realized that, not only had I read a great story, but I now understand quantum physics a lot more as Crouch made the concept quite understandable (not easy with a math challenged person like me).
Crouch has crafted the near perfect mix of SF, thriller and love story. Highly recommended.