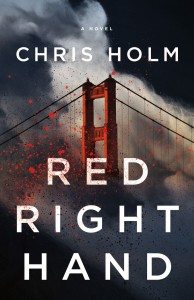 Michael Hendricks is back with a vengeance.  In THE KILLING KIND, Hendricks was the hitman who went after hitmen and found himself marked for death by a sinister cabal known only by the name The Council.
In RED RIGHT HAND, Hendricks is going after members of the Council but finds himself sidetracked by a request from FBI Special Agent Charlie Thompson.  Thompson puts her job on the line to enlist Hendricks help in tracking down an FBI informant who was thought to be dead. Hendricks, who is on the FBI's most wanted list, is reluctant to accept the job but realizes that the informant, Frank Segreti, can lead him to other members of the Council.
In RED RIGHT HAND we're thrown into the shadow world of private military contractors who are tasked with tracking down terrorists who blow up the Golden Gate Bridge, however, these contractors don't only work for the government.
Hendricks is joined in his quest by computer whiz, Cameron who he agrees to take on for this job only as he is concerned for her welfare after losing his last tech (and good friend) at the hands of an assassin.
What follows is a fast paced thriller masterfully plotted by Holm.
Put aside a full night, RED RIGHT HAND is so engrossing you won't want to put it down.