The first two books in the trilogy are MURDER AS A FINE ART and INSPECTOR OF THE DEAD where we're introduced to Thomas De Quincy (The Opium Eater) and his daughter Emily. These are not fictional characters and it was interesting to learn little tidbits of facts about each of them juxtaposed against the fictional story line that they're placed in. We're also introduced to two fictional Scotland Yard detectives, Ryan and Becker who have a father/son, mentor/mentee relationship and who both have strong feelings for Emily.
All three book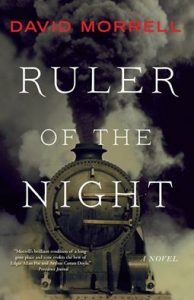 s employ a unique style of storytelling POV by utilizing Emily's journals.
David Morrell closes out this Victorian age trilogy with RULER OF THE NIGHT.
RULER OF THE NIGHT focuses on the first murder committed on a train on the British rail system in 1855, and the Hydrotherapy craze that was taking place in England at that time. He also draws some strong parallels to the income inequity of the time.
A barrister is brutally murdered in a locked first class train car while De Quincey and Emily are travelling on the same train. With the help of Ryan and Becker, they use groundbreaking (for it's time) investigative techniques to solve the crime.
The action has the team traveling from London to the aforementioned Hydrotherapy clinic to track down the killer or killers and stumbling upon an international conspiracy. What starts out as a 'who done it' fast turns into one of Morrell's trademark spy novels.
Morrell invests a lot in research which results in submerging the reader into the time period. While reading this novel, I looked up and felt so disoriented to see modern day furnishing – that's how real this book felt.
The story was engrossing and fast paced. Sadly, this will be the last of the DeQuincey novels but it ties up the series nicely.