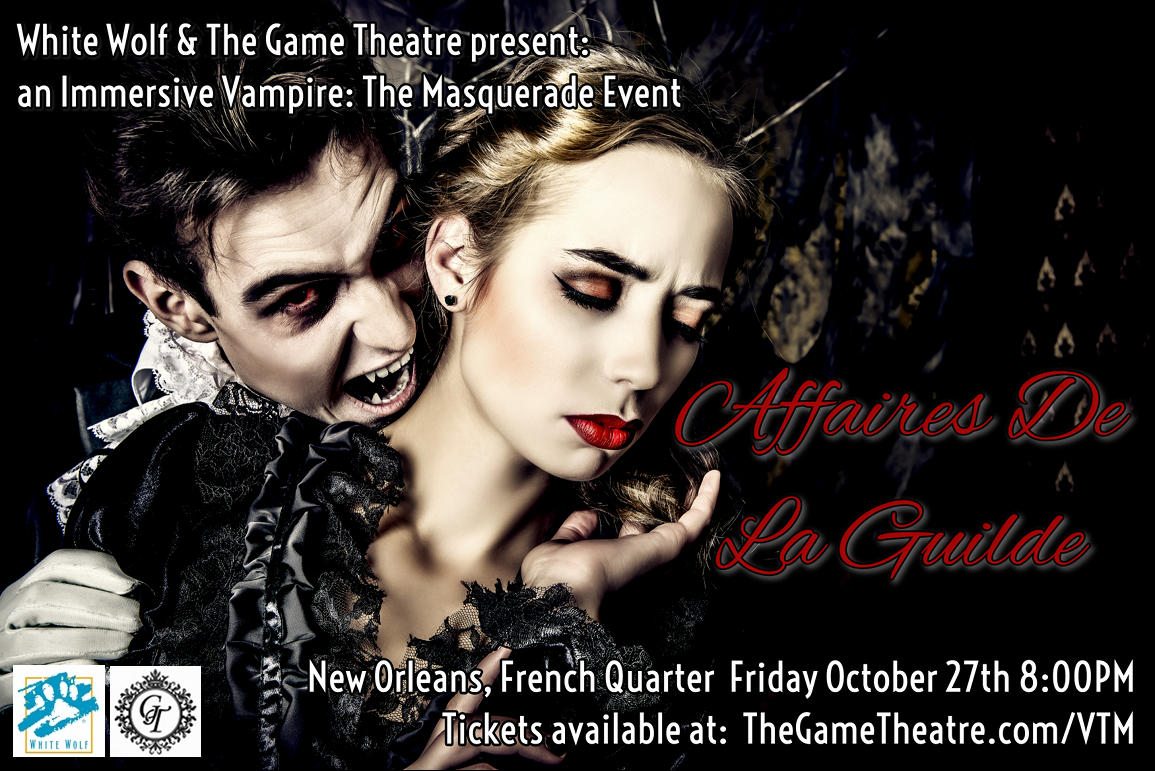 White Wolf Entertainment and The Game Theatre present Affaires De La Guilde (Affairs of the Guild) an immersive Vampire: The Masquerade live action role-play ("LARP") experience set in the World of Darkness. The event will be hosted in a historic New Orleans, French Quarter location and offers guests the opportunity to become a Vampire, known as one of The Kindred, immersed in an engaging story, as a pre-Halloween New Orleans weekend experience.
The Game Theatre uniquely melds LARP with social gaming to create compelling, immersive and experiential live adventures. For Affaires De La Guilde The Game Theatre will produce a unique, yet simple to master, "social deduction LARP."
"Groups of young artistic Vampires, rebelling against their Clan's Elders, have secretly traveled to New Orleans to establish an independent Vampire Guild to earn their creative freedom. To succeed they must pass an initiation ritual of an Independent Vampire Clan that oversees the city. However, saboteurs lurk in the shadows and will stop at nothing to fail the initiation as to cast the young Vampires back to their Elders for retribution…"
Affaires De La Guild is inspired by the rich lore of the Vampire: The Masquerade setting yet will not be a traditional rulebook LARP. The event will be an engaging social experience that combines Theatre LARP (free-form character and story development), with a precise, goal oriented (team vs. secret team) mega social deduction game where player actions and decisions will have profound consequences.
One of The Game Theatre's tenants is to provide compelling reasons for everyone to interact with everyone else in the room, and beginners and those new to LARP are welcome.
Details and ticket information for Affaires De La Guilde is available of the The Game Theatre's ticket page: TheGameTheatre.com/VTM
2017 The Game Theatre ® and Vampire: The Masquerade®, Copyright© [2017] White Wolf Entertainment AB All rights reserved. www.whitewolf-publishing.com.
Affaires De La Guilde is a licensed White Wolf event produced by The Game Theatre www.thegametheatre.com/vtm