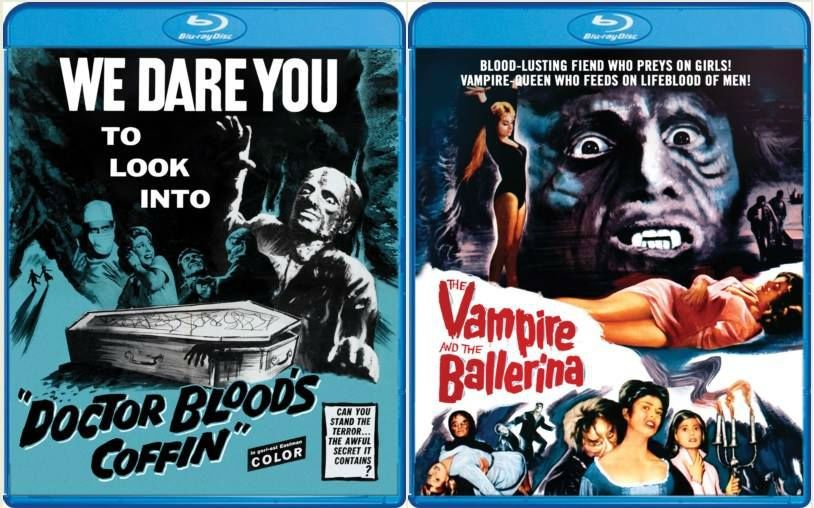 We are now taking pre-orders for our upcoming release of two early 60's shockers: DOCTOR BLOOD'S COFFIN and THE VAMPIRE AND THE BALLERINA, both which make their Blu-ray format debuts in the U.S. & Canada this May!
DOCTOR BLOOD'S COFFIN (Street Date: 5/15): After being dismissed from medical school because of his devious experiments, Doctor Peter Blood returns home to join his father's practice. He still believes he can create the perfect human, so he continues his experiments in an abandoned mine where he attempts to revive a rotting corpse. But Dr. Blood needs a living "donor" to create his "perfect human" and soon people start to disappear from the nearby village. This shocker stars Kieron Moore (The Day Of The Triffids) and Hazel Court (The Curse Of Frankenstein, The Masque Of The Red Death), and was directed by Sidney J. Furie (The Entity, The Ipcress File).
THE VAMPIRE AND THE BALLERINA (Street Date: 5/22): Shot in and around the grounds of an ancient Italian castle, this creepy and atmospheric thriller follows a company of beautiful ballerinas on tour, when they become stranded within its sinister, stony old walls. They have no idea that a horror legend two thousand years old is about to come alive in the form of a group of vampires, all thirsting for blood … especially their nefarious and brutal queen. "Coupled with the smooth direction of Renato Polselli is some really fantastic cinematography that uses lighting and shadow effectively to make this film really come alive" (The Telltale Mind) … and keep you firmly transfixed at the edge of your seat!
Pre-order now DOCTOR BLOOD'S COFFIN @ https://www.shoutfactory.com/product/doctor-blood-s-coffin… to receive early shipping.
Pre-order now THE VAMPIRE AND THE BALLERINA @ https://www.shoutfactory.com/…/the-vampire-and-the-ballerin… to also receive early shipping.