Interview conducted by T.A. Wardrope
Award-winning author and editor Nancy Kilpatrick stopped by to talk to us about her new anthology Expiration Date (Hades Publications 2014) in celebration of its USA print release.  Here's a teaser: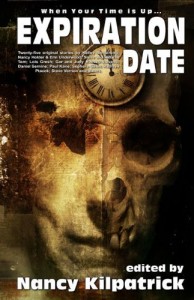 "Modern lives seem littered with expiration dates. Packaging tells us when our food will go bad; when we can expect appliances to cease functioning; when contracts for the internet finish! But as annoying as these small expiration dates are, they fade to nothing compared to the larger events: when a species goes extinct; when a body of water evaporates, or dies because the PH balance alters; when giant icebergs break apart and glaciers melt forever, threatening the ecosystem of this planet.

"Nancy Kilpatrick has gathered together twenty-five original stories by Kelley Armstrong; Nancy Holder & Erin Underwood; Steve and Melanie Tem; Lois Gresh; Gar and Judy Reeves-Stevens; Daniel Sernine; Paul Kane; Sephera Giron; Kathryn Ptacek; Steve Vernon and others to look at the what-if's of our expiring future."
Horror World:  Would you call this "pre-apocalyptic" fiction? What challenges does this theme present?
Nancy Kilpatrick:  I don't know about the word 'apocalyptic', which usually refers to mass destruction. These stories tend to be personal expirations, and the personal is always more horrifying because we see ourselves in the story.
HW:  What was the inspiration for this anthology?
NK:  The previous anthology I edited was Danse Macabre: Close Encounters With the Reaper. Danse Macabre is a specific artwork that originated in the 1400s in Europe and was sometimes called 'Plague Art'. Everyone has seen it–the skeleton leading the person to their death. I had great stories come in for that anthology that didn't quite fit the premise. I was lamenting what all editors lament–that there are terrific stories that Just Don't Fit. The publisher at Edge SF&F suggested I do a follow-up anthology as I did with Evolve and Evolve Two, and I mused on that for a while and didn't think a follow up was quite right. Then the theme of expirations came to me, which is not specific to anything but endings–the milk in your refrigerator will reach an expiration date! I was fortunate enough to be able to use many of the stories I couldn't include in the previous anthology.
HW:  Some say horror is as much about survival as anything else. If this is true, what does that mean for a collection of stories about things not surviving whatever end that threatens them?
NK:  I think horror is about the struggle to survive. And 'survive' has a lot of connotations. Someone who is terminally ill and suffering greatly may be kept alive by the medical establishment, but is that any sort of victory in terms of survival? If a person is being tortured to death, wouldn't death be a survival of the spirit that won't break?
I always view fiction as an extension of the old fairy tales, which were told slightly differently from country to country, person to person, and with each telling, mainly because they were oral and at the discretion of the storyteller. There is no one ending. In fact, there are many possibilities for endings. I think horror does that well, unlike a lot of genres, because it speaks to dire situations. And in fairytales there are all sorts of outcomes. Expiration Date offers that to readers.
HW: Can you say a little about the selection process?
NK:  I did begin with a handful of stories that didn't work for Danse Macabre, but from there, I mentioned the anthology to people, which is often how I solicit. Those who read my Facebook wall will know about an anthology and get in touch with me if they are interested. I usually ask for the idea first, since I can more or less tell if a story is going to fit, and also whether or not it's a repeat of a plot I already have or know is coming in. You'd be surprised at how many people come up with a similar plot.
As stories come in, I read them and if they are a possibility, I hang onto the story with the author's blessing until I can determine how the anthology is forming. Of course there are always some stories that are so outstanding that it's an immediate yes, I want this! There are others that just don't work, either because the plot or theme is not happening, or in some cases the writing isn't there yet, especially with new writers. I'm a very old-school editor: I really value plot that hangs together, with elements that lead to a conclusion or resolution of some kind that is neither totally predictable nor one that just drops off the page. One of the hardest aspects of writing is plotting and I find that a lot of genres ignore plot now and just present things happening that don't necessarily relate to each other or follow one another, or lead to an ending that isn't forced. Overall, if I like a story but it has some issues that aren't catastrophic, I will work with the writer to fix those issues and that almost always is a successful partnership.
HW:  What was the most rewarding part of creating this anthology?
NK:  That's it's finally a book? LOL. This one took a while to materialize and that's frustrating for the writers as well as for me. Everyone wants to see their work in the light of day and publishing still can be a snail's pace endeavor. I think it's always astounding when the book arrives; it's an idea and a whole lot of work that has now actualized into concrete reality. Nothing beats that!
HW:  For the writers, what sorts of stories did you see way too much of?
NK:  Simplistic ideas of expiration. For example, death-by-gun. Guns are big in film and fiction and there are cultures and countries that thrive on guns and glorify their use. They are presented as the Only Way Out. I find that boring in general: pick up a gun and shot someone or something, or yourself. There's little subtext to that, and I think it's too easy, although a good writer can work with demise by gunfire creatively. I wanted to see more intriguing demises.
HW:  What's the grossest thing you discovered too late had passed its expiration date?
NK:  Something in my fridge that became so unrecognizable that I forgot what it had been originally!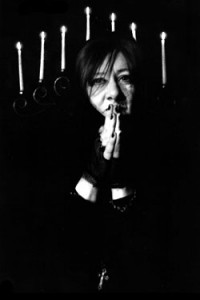 Award-winning author Nancy Kilpatrick has published 18 novels, over 225 short stories, one non-fiction book (The Goth Bible) and has edited 15 anthologies. She writes mainly dark fantasy, horror, and mysteries.
Her recent short fiction appears in venues such as: Blood Lite and Blood Lite 2; Hellbound Hearts; The Bleeding Edge; The Living Dead; Vampire Stories by Women; The Mammoth Book of Ghost Stories by Women; Vampires: Dracula and the Undead Legions; By Blood We Live; The Bitten Word; Halloween: Magic, Mystery and the Macabre; Searchers After Horror; Dark Fusion: Where Monsters Lurk; and Darkness on the Edge.  She co-edited with David Morrell the horror/dark fantasy anthology Tesseracts Thirteen. She is the editor of Evolve: Vampire Stories of the New Undead, Evolve Two: Vampire Stories of the Future Undead, Danse Macabre: Close Encounters with the Reaper, and Vampyric Variations.
Nancy won the Arthur Ellis Award for best mystery story, has been a Bram Stoker finalist three times, and a finalist for the Aurora Award five times. Danse Macabre won the Best Anthology of the Year from the Paris Book Festival, and Vampyric Variations won silver in the ForeWord Reviewers Book of the Year Awards.