Rob E. Boley's nine-part SCARY TALES series melds together classic fairytales with equally classic horror monsters: Snow White and zombies, Little Red Riding Hood and werewolves, and more.  Rob joins us today to talk influences, writing advice, and how to feed a wolf.  Seriously, there's a lot to learn (not to mention links to a free download of THAT RISEN SNOW, the first book in the series).  So let's begin . . .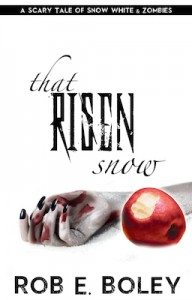 HORROR WORLD: Let's start, as most stories do, with the beginning. What was your
inspiration for The Scary Tales series? You've said that the first entry was intended to stand alone, but it soon sprawled out. How did that come about? (Bonus points if you start "Once upon a time . . . .")
Rob E. Boley: Once upon a time, my daughter was obsessed with Disney's Snow White and the Seven Dwarfs. She watched it multiple times a week for several weeks. During one of those seemingly endless viewings, I had this epiphany: why would any reasonably wicked curse end with a kiss? Wouldn't it be a hell of a lot more sinister if that kiss instead triggered a second "viral" curse? Wouldn't it rock if Snow woke up as a rabid zombie?
And that's how it all started. But the more time I spent getting to know the dwarfs, Snow, and the Queen, the more I realized that a larger story was waiting to be told. To do those characters justice, the book would have to grow beyond one single volume. After I incorporated Red Riding Hood and werewolves, I started seeing opportunities to use more combos of fairy tale and horror characters. It's all coming together with shocking ease. By the time all nine books are out, I will have used most of the popular fairy tale characters and all of the classic Universal Pictures horror monsters.
HW: Given that these stories seem at first blush to combine family-friendly classics with some truly terrible classic horrors, what should readers expect (or dread) in terms of tone? Is this strictly adult?
REB: I'm calling it a PG-13 series, and I think it's fair game for both teens and adults. There's plenty of violence and gore, but I don't feel it's excessive considering the subject matter. The books are fast-paced and full of tension, but I try to break up some of the terror with plenty of laughs. It's been interesting to see the varied experiences readers have had with the series so far. Some readers have told me that the books kept them on the edge of their seat with thrills and scares. Others have found them laugh-out-loud funny.
HW: Which of the books in the series (so far, or on the horizon) is your favorite? Conversely, which of them did you find the hardest to write, and how did you overcome that?
REB: The final book in the series—Book Nine—will likely be my favorite for three reasons: 1) Because it's going to be an epic finale with a great ending; 2) Because it'll mean I've finally gotten to the conclusion of this story; and 3) Because I'm only saying this so you'll want to buy the first eight to catch up. Ha.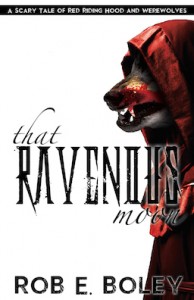 But seriously, I think That Ravenous Moon: A Scary Tale of Red Riding Hood & Werewolves (Book 3) may be my favorite of the series so far. I've always loved werewolves, especially The Wolf Man with Lon Chaney Jr., and the Red Riding Hood fairy tale in all its many iterations, so it was a complete joy to play with those characters. Plus, I feel like the series really takes a major turn with this book, with the curse going from a more localized problem to something that threatens all of humanity on a much larger scale. It gets apocalyptic!
That Risen Snow: A Scary Tale of Snow White & Zombies (Book 1) was probably the hardest to write. It went through many, many drafts over a period of a few years, because I was less experienced as a writer and was still finding my voice for the series. Thankfully, I had some great advice from some fellow writers (especially Cynthia Marshall, Frank Smith, and Sarah Zettler) that made the book so much better.
HW: You're a man who's had many different jobs, all of which must have had some impact on you. Among other roles, you've been a dishwasher, a volunteer firefighter, a bagel baker, a writing tutor, and volunteer at a wolf sanctuary (Mission: Wolf). I'm going to ask you two questions, but let's start with the easy one: What did you feed the wolves?
REB: Well, this one day a local rancher had a horse die. So, he kindly dropped it off at the wolf sanctuary, and it fell to us to take the poor thing apart with axes and saws and knives, separate the bits into buckets, and toss the contents into the various enclosures. It was pretty gruesome work, but it was worth it to see the wolves chowing down on some serious meat.
HW: Now, a harder question, not about wolves but about writing. What piece of writing advice would you give to our readers who are also writers?   What was the best piece – or the worst piece – of writing advice you've been given?
REB: I always tell aspiring writers two things: 1) write every day, be it for a set period of time or a certain number of words; and 2) read often, preferably of many different genres and authors. If you want to be a writer, you write. Simple as that. Just sit down and do it. And reading a diverse group of writers only makes your writing better. Beyond that, if you want to take your writing to the next level, you have to get to know other writers, be it by taking writing classes, attending writing conferences/workshops, or participating in retreats. Those are the folks who will help you tighten up your drafts, provide real feedback, and eventually give you blurbs or other networking help (all of which you should be fully prepared to do in return). We write in solitude but we publish with solidarity.
The best writing advice I've received was from noir novelist Les Edgerton, who was my afternoon fiction seminar leader at Antioch Writers' Workshop a few years ago. Les is a damn fine writer and also the author of the most practical book on writing I've come across, Hooked. He basically said that you have to hook the reader on the first page. It's really tempting to start a story with all kinds of background and description, but that can all come later. The story needs to start where it starts—with whatever incident kicks off the central conflict. If your first page doesn't have tension, odds are no one is going to read the second page.
HW: Where do you see your influences – not just for this series, but in general? Who are some of your literary forebears? Beyond that, however, who (or what) are your influences/preoccupations/etc. from the larger world?
REB: I grew up reading a lot of my dad's Stephen King books, so he's definitely an early influence. My first real literary love was probably Douglas Adams, who I discovered in my high school library. I loved his imagination and his sense of humor, and I'm sure some of that has rubbed off on my own work. I also read a lot of Neil Gaiman in my teen years and still today. In more recent years, I've gotten hooked on the horror of Joe Hill and the fantasy of Jeffrey Ford. In the past year, I've devoured most of Jack Ketchum's novels. I love his sparse, direct prose and his skill at stoking tension.
Beyond books, it seems like I'm constantly binge-watching some new series on Netflix or Amazon Prime. There's a lot of amazing storytelling occurring in today's series, be it on The Fall, House of Cards, Firefly, Oz, Breaking Bad, Ripper Street, Six Feet Under, Happy Valley, Battlestar Galactica . . . I could go on and on.
I'm also a die-hard comics fan from way back, and I think that's influenced some of how I arrange my words on the page. Robert Kirkman's Walking Dead series continues to amaze me. Saga by Brian K. Vaughan is some of the most brilliant sci-fi/fantasy I've ever read. And I'm a total nut for Batman, be it comics, cartoons, or movies. The next couple tattoos I get will probably be Batman-related. One of my major goals as a writer is to someday write a Batman story arc. That would be such an honor.
HW: I don't want our readers to come away thinking that the only books on your authorial shelf are the Scary Tales. What other kinds of stories and styles do you work in, and where can curious readers find different veins of your work?
REB: I'd say most of what I write could be classified as dark fantasy, which—to my way of thinking—simply means something scary happens, something otherworldly happens, and maybe they happen at the same time. I've had short stories appear in a variety of magazines and anthologies, and a handful of them are available to read for free online. Interested readers can visit my online home at www.robboley.com and click on the "Short Stories" link for a full list of my short stories and where to find them.
As well, anyone who signs up for my REBolution email newsletter via my website will receive a complimentary short story that once appeared in Clackamas Literary Review.
HW: Finally, what's on the horizon? Not just what's coming out next, but also what ideas are you playing with that maybe haven't been worked out yet – give us something concrete and something abstract to anticipate.
REB: Well, Book 5 of The Scary Tales—That Merciless Truth: A Scary Tale of Goldilocks & the Mummy—will be out in the fall. After that, there will be four more books to close out the series. I've also got ideas for a couple Scary Tales novellas, including, yes, a Christmas special.
I do want to mention that the ebook of That Risen Snow is currently on sale for free on Amazon, BN.com, GooglePlay, and iTunes. If the premise of the series intrigues you, please give it a shot!
Beyond that, I'm weeks away from finishing a first draft of a novel that's very different from The Scary Tales. I needed to step away from those horror/fairy tale characters for awhile and start something else. It's set in our modern world and tentatively called The Buzz. I guess I'd call it a young adult sci-fi fantasy horror story. Why be constrained by one genre, right? I don't want to give too much away but the tagline I've had in my head is: What's more terrifying—the creatures that exist outside our world, or the monsters that lurk inside us?
Thank you again having me and for all the great questions. It was an absolute pleasure to visit Horror World!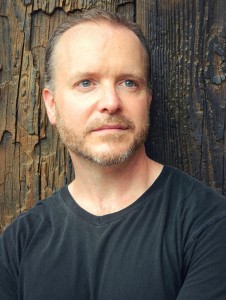 Rob E. Boley grew up in Enon, Ohio, a little town with a big Indian mound. He later earned a B.A. and M.A. in English from Wright State University in Dayton, Ohio.  He's the author of THAT RISEN SNOW and THAT WICKED APPLE, the first in a series of dark fantasy novels published by StoneGate Ink featuring mash-ups of classic fairy tale characters and horror monsters. His fiction has appeared in several markets, including A cappella Zoo, Pseudopod, Clackamas Literary Review, and Best New Werewolf Tales. His stories have won Best in Show in the Sinclair Community College Creative Writing Contest and the Dayton Daily News/Antioch Writers' Workshop Short Story Contest.
He lives with his daughter in Dayton, where he works for his alma mater. Each morning and most nights, he enjoys making blank pages darker. You can get to know him better by visiting his website at www.robboley.com.  You can also find him at:
Facebook: http://www.facebook.com/RobBoleyAuthor
Twitter: http://twitter.com/robboley
Goodreads: https://www.goodreads.com/author/show/4097555.Rob_E_Boley