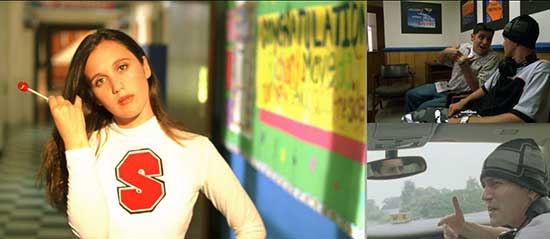 Written at age 19, then directed at 22, James Hausler's Suicide Trip is an age-laced perspective rarely seen in cinema. Following three exaggerated archetypes – riffing on high school movie tropes – it's the story of a millennial generation growing up in early 2000, which began as an ODD-yssey that never quite found a home… until now!
Suicide Trip is stamped with Hausler's unique vision as a young director – he describes the tale as existing "somewhere between dream and fantasy."
The three main characters embark on a ridiculous, conflict-spattered hallucinogenic journey through high school, parties, and crime. Told from the perspective of each, the story is seen through their eyes, skating the edges of what's real… and what's not.
Suicide Trip put the Z in CRAY 15 years ago, but was never officially released… until now, and it's been remastered, polished, and ready to night-train you to WTFsville!
Suicide Trip is now available On Demand! Watch it HERE now, and be sure to follow us on Instagram and Facebook!