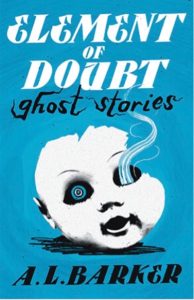 ELEMENT OF DOUBT: Ghost Stories
A.L. Barker
Valancourt Books, 2023
Reviewed by Mario Guslandi
Audrey Lilian Barker ( 1918-2002) was a prolific author of novels and short story collections, now largely forgotten. The present volume reprints her collection Element of Doubt, originally published in 1992 and, rather surprisingly, subtitled " Ghost Stories."
The collection includes a novella and twelve short stories, most of which have actually very little, if anything, to do with ghosts.
The novella "Romney" is really an outstanding piece of insightful fiction, probing the secrets surrounding the death of a young man and investigating the role of his younger brother. It  is graced by an excellent, gripping storytelling and by a fascinating, perceptive analysis of events and feelings. Enough to make worthwhile buying the book.
The remaining stories, by no means "ghostly," are pleasant, unpretentious fillers. To me the best ones are "The Parrot", the vivid portrait of a loner experiencing for the first time what love is and how much one has to pay in order to get it, and " Fur," an offbeat  tale featuring an old aunt always wearing a smelly fur coat.
I cannot recommend enough the purchase of the book due to the inclusion of that superb novella.