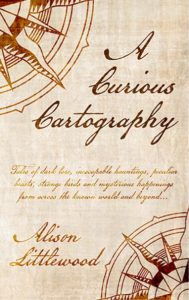 A Curious Cartography
Alison Littlewood
Black Shuck Books, 2023
Reviewed by Mario Guslandi
A successful novelist and short story writer (winner of a Shirley Jackson Award for Short Fiction), Alison Littlewood is an eclectic author in the general area of speculative fiction.
The present volume collects nineteen of her stories, previously appearing in various anthologies and magazines.
If you are not acquainted with this author, here's a splendid opportunity to get a juicy taste of her narrative ability to effectively cover a variety of topics and subgenres. I will briefly mention the stories that I've especially enjoyed.
"The Headland of Black Rock" is a fascinating story featuring a lonesome man who meets an elusive but enchanting mermaid , while "The Light You Can Hear" ( what an extraordinary title!) is a melancholic piece where a family gets affected and dispersed by unforeseen events while travelling by the Arctic Circle.
"The Marvellous Talking Machine" is a subtly disturbing tale halfway between horror and SF. The telltale title says it all, but it's the superb narrative style which makes it a great story.
The distressing, very dark "Black Feathers" revolves around a freak accident in  the woods which will change forever the lives of  a young boy and his elder sister.
Magic is addressed in "Swanskin," where apparently normal women are turned into swans, while in the deeply upsetting "The Entertainment Arrives," a puppeteer performs a terrible, lethal show.
"The Flowering" is a delightful story where flowers represent human feelings and convey secret messages.
Lovers of well written, meaningful fiction are strongly advised to get a copy of this excellent collection.