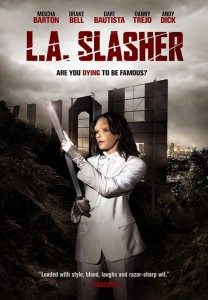 Archstone Distribution has announced that the horror/dark comedy feature film L.A. Slasher, directed by Martin Owen and produced by Jeffrey Wright and Daniel Sollinger, will be available in stores and On Demand in North America December 8, 2015.
"We are very excited to take L.A. Slasher to the home video market following its limited theatrical run in AMC Theaters this past July," Archstone Distribution's President & CEO Brady Bowen stated. "It is a highly entertaining film with a unique voice that we know audiences are going to love!"
L.A. Slasher producer Daniel Sollinger remarked, "My team and I are thrilled to be working with Archstone, as they have a steady track record for bringing high quality films to audiences worldwide. We are very proud to be on their roster."
With an all-star cast that includes Mischa Barton, Dave Bautista, Danny Trejo, Drake Bell, Eric Roberts, Brooke Hogan, Abigail Wright, Elizabeth Morris, Marisa Lauren, and Andy Dick (in his comeback vehicle), L.A. Slasher is a social satire about reality TV and the glorification of people who are famous for simply being famous. Exploring why it has become acceptable to become an influential star based on no merit or talent, the story follows the titular Slasher character as he systematically abducts these "stars," much to the joy of the online public who view his exploits via social media, and who subsequently and enthusiastically support his mantra of "Death to Reality TV."
Already a recipient of multiple awards on the film festival circuit, the film will be on shelves at Walmart and Best Buy among others, and is currently available for pre-order via Amazon. Disc extras for L.A. Slasher include a deleted scene and feature-length commentary with director Owen, director of photography Chase Bowman, and host Richard Trejo.
L.A. Slasher is also set for its digital debut via Amazon Video, Blockbuster On Demand, CinemaNow, Google Play, Hoopla, iTunes, Microsoft Movies & TV Store, PlayStation Store, and VUDU and will be available in millions of homes On Demand.