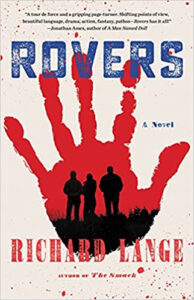 Rovers
Richard Lange
Mulholland Books (July 27, 2021)
Reviewed by Ray Palen
When you receive an endorsement in the horror genre from master of horror Stephen King, it is time for excitement. Richard Lange accepted this well-deserved praise for his novel ROVERS, which King compared to his classic SALEM'S LOT.
What Lange has done with ROVERS is to set the saga of immortal beings known as vampires against an almost Crime Noir backdrop, and the result is a memorable and unsettling read. It opens in a seedy motel room where a man called Jesse is dreaming again of the sun—something he has not seen in over seventy-five years. It's the summer of 1976, and Jesse and his brother Edgar are roving the countryside once again for victims to sustain their nearly unquenchable thirst. Edgar even brings along his cat, Abby, whom he is rarely away from. Jesse must keep a watchful eye on Edgar, who is a bit on the simple side.
They have been picking up prostitutes and bringing them back to their room. When finished, they bury them deep in the ground somewhere. Edgar gets frightened when he swears he spies another Rover—he can tell by the way they glow. Rovers are not typically friendly and can be quite territorial. Since Edgar is not the brightest bulb, he could be easy prey for a marauding band of Rovers looking to shed some blood. One band of Rovers that the brothers run into is the motorcycle gang known as The Reapers. Their reputation precedes them, and they are not to be trifled with.
The scenes that take place in a bar with these Rovers cannot keep me from comparing them to the classic modern vampire film "Near Dark." If you've seen that film, you will know what scene I am talking about. Everything changes for Jesse and Edgar when they meet a young woman in trouble. She comes with a lot of excess baggage that includes an infant. This is certainly not the time for a couple of old Rovers to grow hearts, but they vow to help this young woman and her infant, knowing very well that it will eventually put them in a very dangerous situation with the other Rovers out there.
ROVERS is one of the most unique takes on the vampire saga I have ever read, and it's refreshing to see this happen. The eventual showdown is worth the price of admission, and readers will certainly feel for this lonely race of beings and the situation they are stuck in for all eternity.