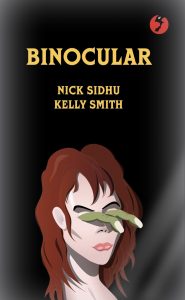 Binocular
Nick Sidhu, Kelly Smith (authors)
Mutant Hoof Books (December 2019)
Reviewed by Elaine Pascale
Nick Sidhu and Kelly Smith wear many hats. Sidhu is an actor and game developer, in addition to being an author; Smith is an author and filmmaker. They have collaborated on the film Nice Mike and the book Binocular, which contains two stories, or, as it is marketed: "One very unpleasant story. Then another one."
Sidhu wrote "Six." This is the story of Jack and Miranda, a young couple whose house (possibly the boiler) is making noises. Enter the very strange handyman, George Snile, who begins to take over their lives.  Miranda is charmed by Snile, but Jack suspects that there is something sinister about George. Snile eventually causes a rift in their relationship, and Jack becomes obsessed with enacting revenge.
Smith wrote "Selkie" about Ross and Anne, who start out as school friends. Anne is not the school beauty, but she has a nymph-like appeal that becomes more magical as Ross begins to dream about her. The two find that they share dreams, and in the dreams, Anne takes the form of a seal: hence, the nickname "Selkie." The story moves at a slow pace until two-thirds of the way through, when Selkie begins a relationship that forces Ross to take action. Ross is willing to risk it all instead of losing Selkie.
Both stories begin with the mundane. They then follow the course of ordinary men reacting in extraordinary ways to conflict in their lives.  The stories are well written, and the characters are relatable. If you enjoy bizarro or weird fiction, these stories are for you.