---


For the ghost story fans out there, editor Michael Knost has just announced the lineup for the forthcoming anthology , which features my new story "How The Night Receives Them".

The guidelines asked for fictional tales inspired by "real" West Virginia ghost sightings.

I share the table of contents with such excellent writers as Thomas F. Monteleone, Tim Waggoner, Scott Nicholson, Joseph Nassise, Bev Vincent, Mark Justice, Geoffrey C. Fuller, Michael Hughes, Jude-Marie Green, Brian J. Hatcher, Trent Walters, and Marta Murvosh.

You can preorder the book !

* * *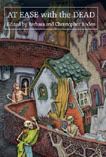 Also on the way in a few short weeks is the new Ash-Tree Press anthology,

At Ease with the Dead

, edited by Barbara & Christopher Roden. Ash-Tree are an award-winning publisher of traditional ghost stories, and this one is certain to prove just as popular as previous volumes. In addition to my tale "Visiting Hours", the book features stories by Simon Kurt Unsworth, John Llewellyn Probert, Reggie Oliver, Melanie Tem, Richard Harland, Gary McMahon, John Travis, Peter Bell, Simon Strantzas, Mark Valentine, Mark Patrick Lynch, Steve Duffy, James Doig, Matthew Holness, Iain Rowan, Helen Grant, Steve Lockley, Paul Lewis, Joel Lane, John Whitbourn, Marc Lecard, Robert Morrish, Chet Williamson, Antony Oldknow, Paul Finch, J. J. Beazley, Don Tumasonis, Simon Bestwick, Keris McDonald and Barbara Roden.

About my contribution "Visiting Hours", Horror-World's own resident reviewer Joe Kroeger had this to say:

"...one story that truly makes this collection well worth getting your hands on is the rich writing and outstanding originality of Kealan Patrick Burke's haunting ghost story, "Visiting Hours". With Burke's memorable imagery and heart-felt emotion packed into a smooth story that reads with a well-oiled refinement, "Visiting Hours" tells a touching story of a son visiting his father's deathbed with an ending that is sure to surprise even the most seasoned reader."

I'll post ordering information for

At Ease With the Dead

as soon as it's made available...