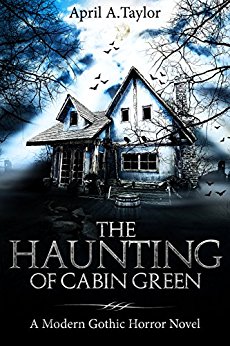 The Haunting of Cabin Green: A Modern Gothic Horror Novel is the debut horror novel of Author and Dark Art Photographer April A. Taylor. Taylor's previous works include the Midnight Myths and Fairy Tales series. Her dark art photography has been published and exhibited in more than 100 publications and galleries worldwide.
Synopsis:
Going to Cabin Green alone after the death of his fiancée was Ben's first mistake. His second mistake was tempting fate by saying, "There's no such thing as an evil building." Now he's caught in a nightmare of his own making deep in the woods of Northern Michigan. Even worse, a family history of mental illness makes it impossible for him to know if the ghosts haunting the cabin are real or all in his head.
This modern Gothic horror story takes the reader directly into Ben's hellish experience. Is he crazy? Is a ghost haunting him? The only way to find out is to make it to the end of this deep, dark thrill ride that's filled with more twists than a roller coaster.
Release Information:
Kindle copies of The Haunting of Cabin Green: A Modern Gothic Horror Novel have a launch price of $2.99. A paperback copy is forthcoming. The eBook format is available from every Amazon site, and the paperback version will be available from a wide variety of retailers.
For more information, visit https://www.amazon.com/Haunting-Cabin-Green-Modern-Gothic-ebook/dp/B07BJ78NNY or http://www.aprilataylor.net.