Interview conducted by M.G. Allen
L. Andrew Cooper is the author of the recent collection Leaping at Thorns (Blackwyrm 2015)(reviewed at Hellnotes ), as well as two previous novels. In addition to the discussion below, we discuss Leaping at Thorns in more depth in our companion interview at Hellnotes.
Hellnotes: Who are some authors that influence your writing the most?
L. Andrew Cooper: I have the unoriginal answer of having grown up idolizing Stephen King, and it shows. Lovecraft, obviously. I read and like a lot of contemporaries, who certainly influence me, but the answers I'm surest of are pretty canonical. Working roughly backward: Jack Ketchum, Clive Barker, Tony Kushner, William Faulkner, Shirley Jackson, Virginia Woolf, Henry James, Oscar Wilde, Gerard Manley Hopkins, Alfred, Lord Tennyson, the Brontë sisters, James Hogg, Charles Maturin, Matthew "Monk" Lewis, Marquis de Sade, Alexander Pope, John Donne, Edmund Spenser, whatever Anglo-Saxons wrote "Dream of the Rood" and "The Wanderer" (notice that my prose, especially in "Heart on a Stick" in Leaping at Thorns, has a tendency to alliterate).
HL: What really scares you or creeps you out? What's something gruesome that really inspires you?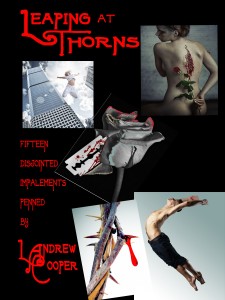 LAC: My stock answer used to be worms, but I worked through a lot of that with the story "Worm Would" in Leaping at Thorns. A cool answer would be a quick scare, an image—that feeling I had when I took a wrong turn in the Parisian catacombs and realized I was a big enough person to get wedged in, stuck, between those two piles of real human bones—but that's not the truth. The truth is what I keep coming back to in my novels and interrelated stories: the possibilities for abuses within systems of power are so vast that they are astounding, so much so that I can best express them through fictions of bizarre supernatural events with vast death tolls. I'd rather write those stories than watch the news about everyday events with vast death tolls. Maybe that's inverse inspiration, inspiration through avoidance.
HL: How much time do you spend on writing per day?
LAC: That depends on what you mean by writing. I produce text every day in the form of email, blogging, FBing (which is almost all intended for public consumption by some audience), reviewing movies, working on scholarship/nonfiction, or working on fiction. I wish I could support the writer's rule of working on fiction every day, but my life, or my brain, or whatever, is such that I tend to cook multiple projects on the inside over years (if they're book-length) and then, when opportunity presents, spit them out rapidly in draft form, then comb. For perspective: I first started planning both Burning the Middle Ground (2010) and Descending Lines (2011) at the same time, around November, 2001, as I tried to wrap my mind around, you know. Likewise, I've known about the next book I plan to write, Manufacturing Miracles, since around then, too, but I've just been thinking about it all these years.
HL: Have you had many struggles getting your work published? Any advice or caveats to new writers?
LAC: Although I stopped counting, I'm fairly certain rejections reached hundreds in my mid-twenties when I was marketing a still unpublished novel and some stories that have since been published in deeply revised form. After I finished my PhD, I kept writing but only maintained cursory efforts at publishing fiction, as I was more focused on teaching and the often brutal academic world. I got back into it when I moved to Louisville, Kentucky and actually met with BlackWyrm Publishing and felt an immediate connection. Within days I showed them the manuscript for Burning the Middle Ground, and in less than a year they had it out.
To shift toward advice: making personal connections with small and independent presses never really occurred to me, and it has been great! Yes, if you get your foot in the door with a huge press—and five companies control more than 90% of the imprints out there, so beware of readers for whom the definition of good may be "determination of marketshare"—they have the distribution and marketing to skyrocket you to the top, but don't ignore the rapidly growing number of other options.
HL: You are quite the expert on monsters. You wrote a book about them. What is your favorite kind of monster? Why?
LAC: Shoggoth. All monsters defy the ways our brains try to process people and other creatures/things into categories, but this is the monster that takes that defiance to the extreme of short circuiting the brain itself, as the monster incorporates geometric and transformative properties that are beyond language and comprehension. They blow your mind, man. They kill you on the inside before they kill you on the outside.
HL: Do you think writing a collection of stories is harder than writing an entire novel?

LAC: Depends on the collection. Leaping at Thorns—no. I didn't plan it as a collection, although I shaped it into one after the fact. That was fun and challenging but not nearly as challenging as sustaining a novel-length narrative, particularly since mine contain patterns within patterns.
HL: Summarize Leaping at Thorns in ten words or less.
LAC: F**ked up surreal nightmares. Not for kids.
HL: What do you mean by "Fifteen Impalements" – the subtitle of Leaping at Thorns? Why impalements? I think I know. That's such a cool word to use in a title…
LAC: Damn. The truth might make it less cool. Well, actually, the only reason it has a subtitle is that my publisher thought that publishing "experimental" short stories requires warning readers a little that they aren't always going to get things, like, traditionally satisfying endings. However, I chose "impalements" as a substitution for "stories" to indicate that each story is itself a masochistic invitation. At a horror convention, I told a reader who said she didn't like extreme horror not to read "Charlie Mirren and His Mother." She picked up a copy and asked whether she could sit down next to me and read. I told her not to, but I said she could. As she read, I watched her physically transform. Afterward, she told me how she ill she felt. BUT SHE FINISHED. She leapt and slid all the way down.
HL: What do you want readers to take away from Leaping at Thorns? What final impression do you want to convey?
LAC: Even at its worst the life around us can be beautiful if we appreciate it in the right ways.
HL: In the Afterword portion of Thorns, you describe the long amount of time this collection took you to write. Describe the journey in making this book. Do you feel like you evolved as a writer along with the stories?
LAC: Very much so—I first drafted the oldest story in the book when I was 19, and in less than two weeks from the day when I am writing this response, I will be 38, so I really hope I have evolved. The story of the book itself: likely at some convention, my publisher and I were chatting, and I mentioned that I probably had enough short fiction for at least one collection, if he happened to be interested. Although the idea has been on my mind, a fairly spontaneous pitch emerged, and then began Nostalgia Horror. I knew in particular that I would seriously need to consider "Charlie Mirren" for any collection, because it's the favorite of several in my inner circle, but that story messes me up a little. Committing to publish it meant committing to spending a lot of time with it, which was hard. Otherwise, rewriting and revising these stories was both revisiting the usually unpleasant things that inspired them as well as the times in my lives when I first drafted them… looking out at the obscure Pasadena horizon on a Halloween-timed visit while I drafted "Lachrymosa"… one of the few times I really hung out in a smoke-filled room with one of my college roommates and his girlfriend on the night after I finished drafting "Plague Veronica"… things like that. Weird journey.
For more with L. Andrew Cooper, don't forget to check out our companion interview at Hellnotes.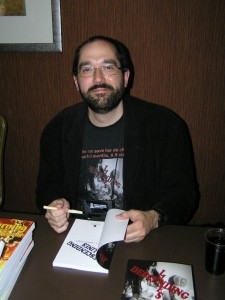 L. Andrew Cooper scribbles horror fiction: the novels Burning the Middle Ground and Descending Lines as well as the 2014 anthology of experimental short stories Leaping at Thorns. He also co-edited and contributed to the anthology of grown-up fairy tales Imagination Reimagined, and he's hard at work co-editing the forthcoming anthology Reel Dark: Twisted Fantasies Projected on the Flickering Page (2015) while putting together a new, interconnected series of tales of his own tentatively called Peritoneum (2015?). All told he's had around two dozen stories published somewhere. His recent study of film, Dario Argento, examines the maestro's movies from the 70s to the present. Cooper's other works on horror include his non-fiction study Gothic Realities as well as his co-edited textbook Monsters, which span from eighteenth-century Gothic through Universal's classic films, and he has recently published an essay on Cabin in the Woods and has another on A Serbian Film in press. His B.A. is from Harvard, his Ph.D. from Princeton. Louisville-area locals might recognize him as WDRB-TV's "movie guy." Find his work at www.amazon.com/author/landrewcooper.