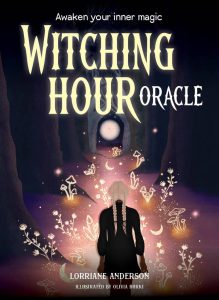 Witching Hour Oracle: Awaken Your Inner Magic
Lorriane Anderson, with illustrations by Olivia Burki
Rockpool Publishing (June 2023)
Reviewed by Wendy Stokes
(Author's note: There is a deck published by US Games Systems, Inc., published June 2022 with the title The Witching Hour Oracle by Cherie Gerhardt.)
This deck has a full colour book to accompany the cards. The set is trendy, young, attractive and multi-cultural with, you could say, LGBTQ+ style images. The author provides her biography and how she came to create the deck; each card had meaning on her life journey. The deck can be used as an oracle in itself, or with the Tarot as companion cards. The deck can be used with other card decks, where the reading is provided and a Witching Hour card is drawn for further guidance. Reversed cards are not used.
Spreads are suggested, such as 7 cards, Interview Your Deck; 3 cards, Three-Card Spread; 3 cards, Bathing in the River; 4 cards, Phases of the Moon; 5 cards, The Elements; 5 cards, The Forest; 6 cards, Book of Spells; and 6 cards, As Above, So Below.
The content is quite philosophical. The images on the cards also have a number, title and subtitle. In the book, there are several keywords for each card and a write up of 200-300 words. I think this is a beginner's deck. I like to use it by adding a Witching Hour card to a Tarot reading to provide extra meaning if required. Interesting!
The author, Lorriane Anderson, also wrote The Witch's Apothecary and the Seasons of the Witch series.