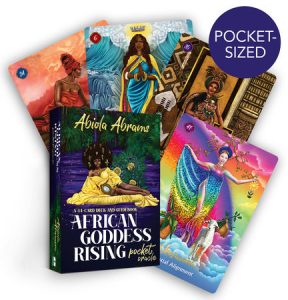 African Goddess Rising Pocket Oracle
Abiola Abrams
Hay House (Oct 2021)
Reviewed by Wendy Stokes
"Sawubona" – a Zulu greeting which means welcome, "we see you".
This is a neat pocket oracle that invites us into the sacred goddess temple circle of this oracle. Each card represents a revered deity, matriarch, regal ancestor, or supernatural creature, all wise and loving divine feminine energy. Each bestows a gift of knowledge. The 44 goddesses are divided into 9 temples: threshold guardians, ancestors, conjurers, warriors, shadows, lovers, griots, queens and high priestesses taken from the 54 countries of Africa and the African diaspora, such as Haiti, Cuba, Barbados, Brazil and Guyana. You must face and integrate these 9 inner temples to awaken the goddess within.
The backs of the cards are a gold Adinkra symbol, a sacred geometric hieroglyphic of the Akan people of Ghana. The symbol means "that which does not burn". Nothing within this deck is intended to cause harm.
The cards provide an image, a number, a title and a subtitle. The book explains which element and temple the energy falls into, guidance from the archetype, her embodiment in your life, and a declaration. The book provides information on a blessing on the cards, a dedication, cleansing and invocation. Spreads are: The Goddess Temple 3 cards, The Talking Drum Ancestral 6 cards, and The Council of Elders 5 cards.
"Rise up beautiful one! this is your time."
Wow! I loved this oracle deck. I sensed the power of these female energies from these little cards. They are worthy of a magnifying glass. The divine feminine at her most impressive.