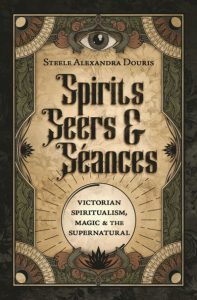 Spirits, Seers & Séances: Victorian Spiritualism, Magic & the Supernatural
Steele Alexandra Douris
Llewellyn Worldwide (September 8, 2023)
Reviewed by N. Richards
Steele Alexandra Douris has a real love and deep understanding of Victorian Spiritualism, ghost stories and classical gothic literature, which she succeeds in breathing true light and life into within the 213 pages of this somehow very "now"  book.
It hit me while reading the intriguing pages that we actually have more in common with the Victorians than I had previously appreciated, in the sense that they were on the edge of understanding so much, both spiritually and technologically. They were filled with a hope and enthusiasm for what the future would hold and that we might be so much closer to understanding the deeper mysteries of life and death, and indeed, life after death.
What we have in this book is a comprehensive guide to understanding Victorian Spiritualism which is the root of many more modern and contemporary beliefs and practices. Along with guidance and instructions on how to practice these arts today.
Split into four parts.
1; The soul of spiritualism: core beliefs and practice
2; The invisible world : shades of the Victorian supernatural
3: Magic in Victorian media
4: Seasonal spirits and superstitions
The four parts span 12 chapters and each chapter contains therein, a thorough overview of each topic, along with examples of and history of prominent figures within the relevant fields, and the parts they played in the arts themselves.
Sir Arthur Conan Doyle features in the first chapter for instance along with Harriet martineu (mesmerism) W.T. Stead (Pens and planchettes), amongst a plethora of other equally fascinating figures.
Each chapter ends with several pages dedicated to "Try it yourself" were the reader is encouraged to try the methods with personal insights and coaching from Steele Alexandra; the whole package is very appealing for the season and although it is a "retrospect " it feels very relevant to modern times  also suitable for anyone with a love of the weird and wonderful, there are two chapters dedicated to Halloween and Christmas ghost stories also, which takes us cosily through the dark half of the year with lots to explore and do for yourself.
Thoroughly enjoyable and a delight to read, I look forward to coming back to try these techniques throughout the season. Now i am off to try my hand at "capturing the invisibles" (chapter 4). Wish me luck!