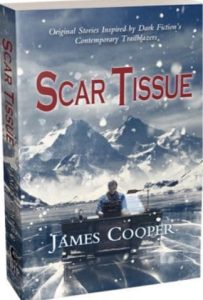 SCAR TISSUE
James Cooper
PS Publishing, 2022
Reviewed by Mario Guslandi
Subtitled " Original Stories Inspired by Dark Fiction's Contemporary Trailblazers," the present book assembles nine novelettes trying to recreate the themes, the atmospheres, and sometimes the styles of famous authors such as Peter Straub, Shirley Jackson, Robert McCammon, Clive Barker,  Joe R Lansdale, Ray Bradbury and Stephen King.
Readers anxious to get to the actual new stories must be warned that they have to be very patient.  There is a general Introduction to the author'S work by Nina Allen, then a long foreword by Cooper himself, and finally, every piece is preceded by a sort of literary essay about the writer who inspired the story.
If you have survived through all this unnecessary stuff ( or if you have been smart enough to skip it altogether) these are, in my opinion, the more accomplished pieces in the volume:
"A Brighter Garden" (inspired by Peter Straub) is an intense piece featuring a Vietnam veteran whose hard experiences still influence his present situation as a cheap and nervous manual worker, while "The Man in the Field," loosely inspired by Jackson's "The Lottery," describes the appearance of a mysterious individual in the fields surrounding a small village as the guarantee of a plentiful crop (at a terrible price).
The excellent "Morning Glory" takes place  inside a small town diner where a priest, a young girl with a missing eye, and a giant of a man meet and elicit unexpected chaos.
"Childhood Inc," inspired to Ray Bradbury's work, has a distinctive Twilight Zone flavor and revolves around a man dissatisfied with his life who is given the chance to go back to his careless youth.
The splendid "Ordinary Day" is told by an old guy involved in an unforeseen family tragedy leading to dire consequences.
Enjoy.