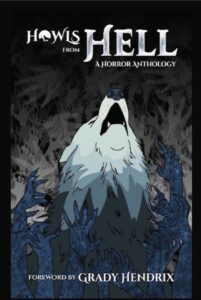 HOWLS FROM HELL
HOWL Society Press, 2021
Reviewed by Mario Guslandi
Published by HOWL Society, the present horror anthology features sixteen short stories, all of which are, admittedly, pretty good stuff for the lovers of the genre. As always with anthologies, however, not everything pleases everyone and the reader's (and reviewer's) taste is what matters in the end. Thus, after having made it clear that the book does not include misfires, I will focus on my own favorite stories.
"A Casual Encounter" by Quinn Fern is an intriguing piece about a voracious female with a peculiar feature, offering her body to lonely men, while "Clement & Sons" by Joe Radkins is a rather implausible yet riveting tale where a widower moved into a big, empty house discovers the power of a grandfather clock.
In the dark fairy tale "Red and the Beast" by Thea Maeve, an unconventional Red Riding Hood and a naïve Beauty fight the Beast and find true love.
"It Gets in Your Eyes" by Joseph Andre Thomas is an effective piece of medical horror, portraying a woman with an undiagnosed eye disorder not responsive to medical treatment, which will finally turn out to be due to a totally unexpected cause. The vivid " Sprout" by M David Clarkson is an original story blending erotic obsession and botanical horror.
To me the best stories are perhaps "She's Taken Away" by Shane Hawk, a brilliant tale where a conversation between doctor and patient about a bad twin sister leads to an unexpected outcome; the deeply unsettling "Suspended in Light" by Alex Wolfgang, where a young woman after accidentally watching an old reel gets caught into a veritable nightmare; and the enticing, horrific "Junko Creek" by SE Denton, set in the wilderness of Sierra Nevada, featuring a woman and her teenager son facing a vicious, evil creature.
Other contributors include: JW Donley, PL McMillan, Bob Jenkin, Solomon Forse, Christopher O'Halloran, Amanda Nevada DeMel, Justin Faull, and Lindsey Ragsdale.
Highly recommended.