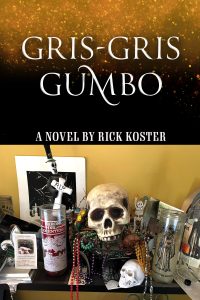 Gris-Gris Gumbo
Rick Koster
JournalStone Publishing (June 23, 2023)
Reviewed by Andrew Byers
Rick Koster offers us a treat: what happens when Crayton Breaux, a clerk at a tourist trap voodoo shop in New Orleans' French Quarter, starts dabbling in voodoo and discovers that it's all real? Needless to say, things take a dark and grisly turn immediately and only get worse.
While Crayton ("Cray") is the central figure, this is a novel about a group of friends and acquaintances living in pre-Katrina New Orleans. Most have relatively marginal existences (college students, a tourist shop worker, a would-be writer, a layabout scion of a politically-connected local family), but it's all the people swirling around Cray who make things interesting. For example, Green Hopkins is a writer, a voice of reason, and the closest thing to a hero we have. Papa Hipolyte is an elderly friend and mentor of Green's who used to be very devoted to voodoo in his younger days before becoming a devout Catholic. We eventually learn that Papa is also the brother of Maman Arielle, a voodoo priestess who sets everything in motion. Things escalate when the group forms a "dead pool" and morbidly bids on when celebrities might die. Cray realizes that he can actually affect the outcome through voodoo, and, well, it gets pretty ugly from there.
New Orleans functions more than just as a simple passive setting in Gris-Gris Gumbo, it's a living, breathing place with a sense of vibrancy. This is the New Orleans that locals experience—tourists are of course a part of that lived experience, it would be almost impossible to avoid Bourbon Street and its bars and tourist traps and party atmosphere—but I would not describe the New Orleans we see here as the "seamy underbelly" of what non-locals tend to think of as a party haven. There are plenty of ordinary people just trying to get by while also enjoying the local culture and laid-back attitude. I've been to New Orleans several times, including a week-long trip I took to the city for Mardi Gras just a few years prior to when this novel is set, and can attest that it's a phenomenal place to explore.
Structurally and tonally, Gris-Gris Gumbo is pretty hardboiled. By the end of the novel, everything is a mess, people have died, but Green and Papa, flawed as they are, have done the right thing, costly as it is, and order has, more or less, been restored. The novel contains several moments of true horror, though it's as much a crime novel as a horror novel. The supernatural is real in Gris-Gris Gumbo, though the nature of voodoo is mostly left unexplored. We see its effects, though we don't really know how it works or why. We do however know that it is mostly associated with death and curses here; this isn't just harmless or for tourists.
Gris-Gris Gumbo is really a novel that's built on the strength of its characters. They feel like real people—I suspect that if you were living in New Orleans in the 1990s you might have known a lot of people like this cast of characters. If New Orleans itself or voodoo in particular floats your boat, I'd certainly suggest checking this one out. It was a lot of fun. Recommended.