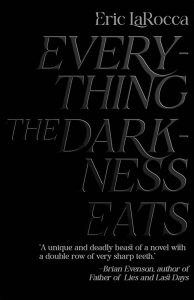 Everything the Darkness Eats
Eric LaRocca
CLASH Books (June 6, 2023)
Reviewed by Andrew Byers
Eric LaRocca is one of the big names in contemporary horror fiction, a kind of wunderkind whose work has regularly gone viral. I've had the chance to read his short fiction and novellas (see a couple of my reviews HERE and HERE), but was very curious to see how he'd handle a full-length novel. Everything the Darkness Eats is a small-town horror novel with vast, cosmic implications, coupled with intense, personal violence. I didn't find it as transgressive as some of LaRocca's previous work—I suppose every reader's bounds of transgression are unique to the individual—but I didn't come away from this one feeling as though by basic sense of human decency had been affronted, nor did it depict acts that would violate the basic cultural taboos of the typical reader as with some of LaRocca's previous work. (I say this as an admirer of LaRocca's work—I very much appreciate being pushed out of my comfort zone as a reader.) To be sure though, this book does contain tremendous violence—brutal, savage beatings and torture of innocents that is inspired by hatred—so I don't mean to suggest that it is not "extreme" in some sense, just that it's not as outré as some of LaRocca's previous hits.
Everything the Darkness Eats is set in Henley's Edge, a quaint, small town, that, like many similar places is only charming on the surface; scratch beneath that veneer of civilization and you'll quickly find a series of unexplained disappearances and a horrific undercurrent of hatred of those who are different from the mainstream, which manifests through shockingly brutal homophobic attacks. The novel is comprised of two narratives, one cosmic and supernatural in nature and one deeply personal and intimate. The two really only intertwine at the very end of the novel (and I had wondered throughout how they were going to connect).
The first, more cosmic narrative is the story of a still-grieving widower intriguingly named Ghost Everling, who encounters a mysterious man named Heart Crowley, who begins as a kind of Leland Gaunt-esque figure offering Ghost a gift beyond his wildest dreams. Ghost is drawn into the town's deeper mysteries by the disappearance of a young, single mother named Gemma he has befriended. Heart offers Ghost a way to help Gemma and the other missing townsfolk while also dealing with a problem of vast significance.
The novel's second narrative stream concerns Nadeem Malik, a police sergeant, and his husband Brett, who have just moved to Henley's Edge and who are considering adoption. The pair begin experiencing vandalism and ostracization simply because they are gay. That petty harassment quickly escalates into savage violence. It is brutal, and at times hard to read, though I would expect no less from LaRocca. Eventually Nadeem gets swept up in the larger events transpiring in Henley's Edge.
I never know what to expect from Eric LaRocca, and try to approach all of his books with an open mind and no particular expectations, which always leads to pleasant surprises. I definitely enjoyed Everything the Darkness Eats as I have his other work. While I don't think this one is necessarily "tamer" than his previous fiction, I would say that if you've been curious about checking out Eric LaRocca's fiction, and perhaps concerned that some of the more extreme elements for which he has a reputation might be too much for you, this one wouldn't be a bad place to start.