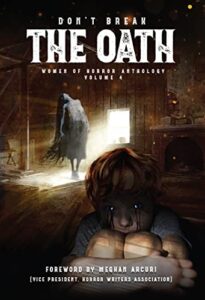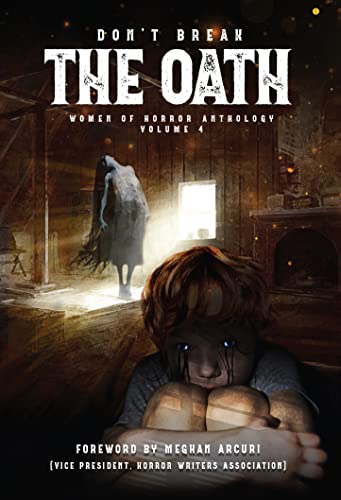 Don't Break the Oath: Women of Horror Anthology Volume 4
Jill Girardi, Janine Pipe (editors)
Kandisha Press (October 18, 2021)
Reviewed by Elaine Pascale
Volume four of the Women in Horror anthologies contains stories from 23 authors from around the globe. As with all anthologies, some stories really strike a chord, while others are not as memorable. There were several stories that really made the collection worthwhile for me.
"The Silver Horn" by Alison Faye: Jay is traveling with his best friend Ethan when their car breaks down. It is dark and cold, and Jay recently found out his girlfriend cheated on him with Ethan. When Ethan disappears to get help, Jay meets Layla, a captivating and creepy creature who wants to provide him with the fidelity he has lost.
"Breaking Up is Hard to Do" by Caryn Larrinaga: Nathan wants revenge on his ex, Jessie. He decides the best way to hurt her is to kill her beloved cat. Nathan doesn't know that the cat is more than prepared for him.
"Shoot Your Shot" by Charlotte Platt. Adam, an Incel, shoots the patrons of a library. The sole survivor has a way with words and ends up having her way with Adam, treating him to an ironic torture.
"Follow You Into The Dark" by Jennifer Soucy: Ray commits suicide to join his deceased girlfriend in Hell. True love could turn Hell into Heaven, but in this case, love only makes Hell worse. The ending provides a nice twist.
"Capable of Loving" by Sonora Taylor: Desmond hosts a popular TV show for kids. One day young Sarah Greene is brought to meet him. Desmond later finds out that Sarah was a type of monster, but a monster that loved him through and through.
"Little Pig" by Lydia Prime: Mallory is being stalked by a very scary monster in this well written creature feature. I could picture it all while not wanting to picture it at all.
"Perfect Girlfriend" by Angela Yuriko Smith: Bob's perfect girlfriend is the most human nonhuman he has met. This sci-fi/horror mash up was a nice change of pace in the middle of the anthology.
"Four Corners" by Kirby Kellogg: Joan and Natalie's boss never lets his employees see him. Natalie decides to change that protocol; a decision she would later regret. This is an engaging piece of cosmic horror.
"Seeds" by Marie McWilliams: "Plant a seed and something grows," the young narrator's grandfather always told him. When he is eventually lured into the woods by an unseen force, he realizes he has been called upon to plant something horrific.
"Soul Grinder" by Cecilia Kennedy: all one needs to know is that this is an industrial creature feature about a tractor pull. If you need more than that, you are not my kind of reader.
"Fluid" by R.A. Busby: the anthology ends with a body horror stunner. The story is a nice nod to the way in which the pandemic forced us to focus on our worst parts as we had no other distractions. This is a bizarre but nuanced story, and it will resonate with many readers.
This was another strong offering from Kandisha Press, who have rapidly become the "go to" for good horror. Not only are the stories in Don't Break the Oath from a wide collection of horror subgenres (psychological, supernatural, gothic, survival), the cover, by Ilusikanvas, is eye-catching and creepy. With such a varied ensemble, there is definitely a story for every taste.