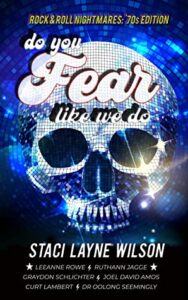 Do You Fear Like We Do (Rock & Roll Nightmares '70s Edition)
Edited by Staci Layne Wilson
Excessive Nuance (2021)
Reviewed by Andrew Byers
Writer and editor Staci Layne Wilson has created an ambitious new series: three horror story collections revolving around the theme of rock & roll, one set in each of the 1960s, the 1970s, and the 1980s. I reviewed the first volume in the series, Along Comes Scary, which covers the 1960s, here. Do You Fear Like We Do is Wilson's sophomore entry in the series, covering the music scene of the 1970s in horrific (and comedic) detail. As with the stories in the first collection, about half are written or co-written by Wilson, the rest by a scattering of other authors. I can't detail each of the stories here, but let me go into a few of my favorites.
The collection opens with a really fun story, "Saturday Fright Fever" by Staci Layne Wilson. A group of disco performers—all the classic archetypes—are abducted and placed in a Saw-like environment they must escape. Hilarious and gruesome all at the same time, and perfectly captures the vibe that Wilson and her colleagues are trying to capture.
Curt Lambert's "Long Ghoul Woman in a Black Dress" is another strong story in the collection. Here, overnight DJ Johnny Handsome has been exiled to a small-town radio station where he encounters Baby, a succubus who just wants to be loved.
Staci Layne Wilson's "While My Guitar Gently Reaps" is another excellent story, this time from the perspective of a demonic guitar that can bring success (or doom) to its owner.
LeeAnne Rowe's "Comfortably Dumb" concerns a merch girl at a concert venue who gives out special scratch-n-sniff stickers to concertgoers, then has to survive a concert in which the audience becomes ravenous cannibals.
Lastly, I would note "Do Ya Think I'm Stabby?" by Staci Layne Wilson, which concerns ex-drummer Abner, who takes out a lonely hearts ad that is (unfortunately) answered by Darla, a lovely young woman who at first seems to be the first woman. Abner gets a very appropriate revenge on Darla when things go south.
As with the first book in this series, Do You Fear Like We Do was a fun collection. It doesn't take itself too seriously, just setting out to capture the feel of the music scene in the '70s while introducing some fright, gore, and humorous situations along the way. Recommended.