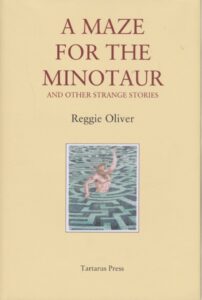 A MAZE FOR THE MINOTAUR
And Other Strange Stories
Reggie Oliver (Tartarus Press,  2021)
Reviewed by Mario Guslandi
Actor,  playwright, director,  illustrator and award-winning writer of novels and short stories,  British author Reggie Oliver is by far one of the very best creators of stylish dark fiction. The present volume assembles eight previously uncollected stories,  two brand new tales,  and a reprinted novella,  plus a  short medley of odd stuff in a lighter vein. The content is graced by a number of delightful black& white illustrations by Oliver himself.
Needless to say, the book is a total delight both for fans of dark fiction and for any lover of great fiction in general. Oliver is a born,  gifted storyteller and whatever he writes keeps the reader totally hooked and spellbound.
A few words about the various stories.
"The Old Man in the Woods" is a superb tale exploring the uncanny secrets surrounding an old property in France,  while "Coruvorn" is an offbeat,  intriguing fantasy story portraying a man divided between two different worlds,  in one of which he's a god.
The puzzling "The Wet Woman,"  taking place in a rehab clinic,  features a mysterious female entity bringing trouble and death,  while the splendid "Collectable" depicts the last days of an old,  famous singer and actress,  now confined within a nursing home.
The very dark title story "A Maze for the Minotaur" describes how a regular visitor of a disreputable house suffers a terrible vengeance in return for his cruelty and violence. In "Shadowy Waters," the death of a former lover makes a man reminisce of his past and retrieve a legitimate will with a little supernatural help,  while in the atmospheric "The Crumblies," the time-honored theme of the haunted house is masterfully revisited.
"A Fragment of Thucydides" is a quite enjoyable, ingenious crime story revealing the truth behind a scholar's death,  and "Via Mortis" is a mild,  but extremely entertaining mystery set in an old Edinburgh chapel turned into a  theatre. "Monkey's" is a bleak, nasty tale depicting a disturbing episode taking place in a little island on the river Thames.
I'll refrain from commenting on the novella "The Armies of the Night,"  previously appearing in The Lovecraft Squad series,  because it would not be fair. Since my youth I have read so much Lovecraft and so many Lovecraftian pastiches (some of which are truly excellent) that I can't stand any more material in that vein. Nevertheless,  Oliver's uncanny ability as a storyteller made even the Lovecraft theme absolutely bearable to me.
You won't want to miss this outstanding collection,  beautifully produced by the renowned imprint Tartarus Press. Highly recommended.