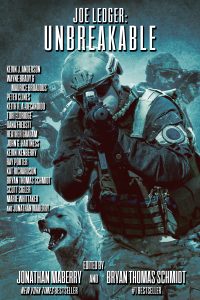 Joe Ledger: Unbreakable
Edited by Jonathan Maberry and Bryan Thomas Schmidt
JournalStone Publishing (November 4, 2023)
Reviewed by Andrew Byers
While I've been aware of Jonathan Maberry's long-running and very popular Joe Ledger series for a long while, I'm new to the series, having only read (and reviewed) the first novel way back in 2009. I would describe the Joe Ledger books as technothrillers involving lots of weird science, like terrorists unleashing a bioweapon that turns its victims into zombies, and similar kinds of threats. My sense is that at some point along the way, ostensibly supernatural elements and Things Man Was Not Meant to Know were introduced into the setting as well.
This latest book in the series is a collection of sixteen stories by various authors who have written stories about Maberry's characters set at various points in the Joe Ledger timeline. There are simply too many stories included in the collection to dissect in their totality, so I'll just note a few that stood out especially strongly.
"Surf's Up" by Kevin J. Anderson: Joe Ledger is on vacation by himself and comes across a renegade mad science project to create amphibious super soldiers, and the local Deep Ones don't seem to appreciate that very much.
"The Side of the Angels" by John G. Hartness: Set before the first novel, this story is nominally Joe Ledger's first exposure to the supernatural, though he takes the discovery of vampires very well. Ledger is paired up with Quincy Harker, a sorcerer and demon hunter.
"Little Murder Machine" by Scott Sigler: Really fun story told from the perspective Joe Ledger's cat, Cobbler, who almost single-handedly defeats a group of robotic assassins in the shape of rats, who have been sent to kill Ledger's dog.
"True Friends" by Kevin Ikenberry: A young Joe Ledger in Ranger training goes camping with an old college friend on what begins as a cryptid hunt and ends with them discovering a dimensional portal that lets three velociraptors and a Tyrannosaurus Rex into a cave. A fun one; if that brief summary sounds like the kind of over-the-top action thriller you're looking for, then the Joe Ledger series may be for you.
"Ghost of a Chance" by Heather Graham: Ghost once again gets to shine, this time as a quasi-stand-in for Scooby-Doo, when a robot goes amok at a haunted house just before the paying customers arrive.
"Bug Hunt" by Jonathan Maberry: A novelette in which Ledger and two wounded comrades are fighting some Serb terrorists in a densely wooded wilderness area to regain possession of a bioweapon while also encountering giant spiders. A really fun action thriller/chase sequence.
"A Long Ride on a Short Track" by Ray Porter: A poignant tale of Mr. Church and his long relationship with Sal. You don't have to be intimately familiar with these characters' backstories to appreciate the reminiscences of two old friends, one of them dying, as they look back on a long shared history.
"We Wear the Masks" by Jonathan Maberry: Ledger teams up with Monk Addison, a finder of missing persons with a fascinating (supernatural) ability, to rescue a group of women and children who are being exploited and abused by sex traffickers. Great characterization. This story introduced me to several characters and a setting—the town of Pine Deep—that I wasn't familiar with, but they were interesting enough that I plan to seek them out.
Like any collection, the stories vary considerably in the protagonists and menaces they include. While most are kind of in a weird science/technothriller sort of vein, there are clearly some actual supernatural elements (vampires, the undead, etc.) present in some of the stories. Even though I wasn't deeply familiar with many of the characters depicted in the stories, I still had a fun time. These are all pretty light-hearted action thrillers where the good guys experience some tough times but, through sheer grit and hyper-competence, they always come out ahead. Are they silly at times? Yes, of course, how could they not be? But they're good clean fun. Recommended.