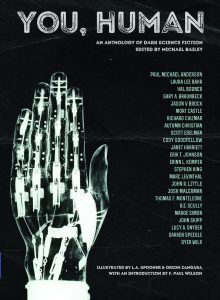 I'm very excited to be a part of Dark Regions Press' new science fiction anthology You, Human, which will be released on December 6th. The book includes my Lovecraftian science fiction story "Executive Functions" along with tales by Stephen King, Paul Michael Anderson, Laura Lee Bahr, Hal Bodner, Gary A. Braunbeck, Jason V Brock, Mort Castle, Richard Chizmar, Autumn Christian, Scott Edelman, Cody Goodfellow, Janet Harriett, Erik T. Johnson, Erinn Kemper, Marc Levinthal, John R. Little, Josh Malerman, Tom Monteleone, B.E. Scully, Marge Simon, John Skipp, Darren Speegle, and Dyer Wilk. George C. Cotronis created the striking cover art, and Luke Spooner and Orion Zangara provided the story illustrations. New York Times bestselling author F Paul Wilson writes on humanism in his introduction to the book.
Editor Michael Bailey writes: "This is the first science fiction anthology by Dark Regions Press in who knows how long. I pulled out all the tricks for this one as well, playing off Asimov's I, Robot, but with a human twist, and three new Laws of Humanity."
According to Bailey, the Three Laws of Humanity are:
A human being may not injure another human being or, through inaction, allow another human being to come to harm.
A human being must obey the orders given it by other human beings except where such orders would conflict with the first law.
A human being must protect its own existence as long as such protection does not conflict with the first or second laws.
As my story begins, my protagonist is in very clear violation of the First Law. I hope readers enjoy it and the other tales in the anthology.