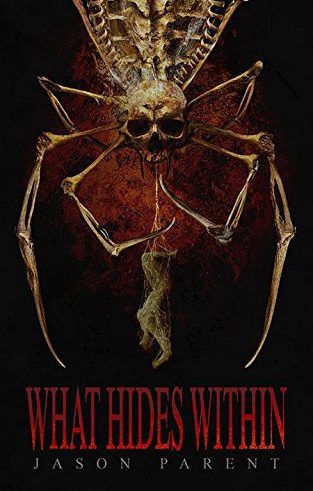 Epic Award Finalist novel What Hides Within by Jason Parent was re-published last year by Bloodshot Books. The spider, Chester, as well as other characters, garnered fan support, as did Parent's writing. Don't miss grabbing it on sale. NOW YOU CAN GET IT JANUARY 4, 2019, ALL DAY FOR .99 cents in e-book format during his Book Bub deal! What Hides Within has a 4.7 out of 5 rating from 220 ratings and over 115 reviews on GoodReads!
Then, check out the newly released Victoria, a standalone novel featuring Victoria and Chester from the universe of What Hides Within.
About What Hides Within –
An award-winning horror/mystery with loads of dark comedy!
Inside all of us, there is darkness. Inside Clive, it's tangible, and it's aching to get out.
What Hides Within tells the story of a man held captive by an unknown evil. Clive Menard is a spineless slacker leading an ordinary existence. But when Chester enters his life, it becomes far from ordinary.
A disheveled Clive stands alone in a hospital waiting room. A series of incidences have led him to undergo unnecessary neurosurgery. A voice inside Clive's head nags him to kill the doctor.
Weeks prior, a murder investigation and an unrelated kayaking excursion set the story's interlocking events in motion. When a remorseful killer, a bomb-happy psychopath and a mysterious widow spider converge upon Clive, they bring with them destruction and death. Clive must discover who or what is steering his very existence before he, too, is consumed by the carnage around him.
With a driven detective following his every step and a vicious killer hiding within his circle of friends, Clive must walk a narrow and dangerous path, teetering between salvation and damnation. He must confront Chester and his own demons. But is he powerless to overcome them?
An EPIC Finalist, "Best Horror of 2013" read and eFestival eBook Award Runner-Up for Best Horror.
Purchase on Amazon for .99 cents Friday, January 4th only!