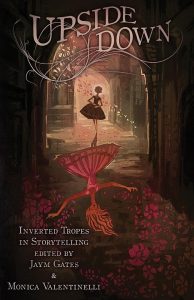 I'm excited to be a part of Upside Down: Inverted Tropes in Storytelling, which will be released by Apex Publications on December 13th. The book is a mix of fiction and nonfiction and includes my essay "Fractured Souls: The Evolution of the Gothic Double from Stevenson to King." In this, I compare and contrast Robert Louis Stevenson's popular Jekyll/Hyde trope with the characters of Detta and Odetta in Stephen King's second Dark Tower novel, The Drawing of the Three. In addition to the Gothic Double trope, I discuss the Jezebel trope/stereotype and a couple of others as well.
The book is co-edited by Monica Valentinelli and Jaym Gates, and the other authors include Maurice Broaddus, Adam Troy-Castro, Delilah S. Dawson, Shanna Germain, Sara M. Harvey, John Hornor Jacobs, Rahul Kanakia, Alethea Kontis, Valya Dudycz Lupescu, Haralmbi Markov, Kat Richardson, Nisi Shawl, Ferrett Steinmetz, Anton Strout, Michael Underwood and Alyssa Wong.
The goal for the story writers was to chose a tired trope or cliche and flip it on its head to challenge and surprise readers. Those of us who wrote nonfiction were tasked with exploring and illuminating some of these tropes for readers. Some of the other tropes you'll find in the book include the Chainmaille Bikini, Love at First Sight, Damsels in Distress, Yellow Peril, The Black Man Dies First, The Villain Had a Crappy Childhood, The City Planet, the Prostitute with a Heart of Gold, The Magical Negro, The Super Soldier, The Chosen One, and The Singularity Will Cause the Apocalypse.