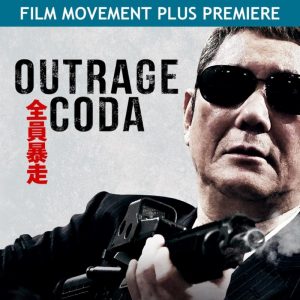 Takeshi "Beat" Kitano, one of Japan's most celebrated filmmakers best known for VIOLENT COP, his directorial debut, BOILING POINT, SONATINE, and HANA-BI, turns 71 on January 18th. To mark the occasion in grand, explosive style, Film Movement Plus will premiere the final bloody chapter in the director's acclaimed underworld trilogy, OUTRAGE CODA, on the streaming service.
Five years after surviving the all-out war between the Sanno and Hanabishi crime families, former Yakuza boss Otomo (Takeshi) now works in South Korea for Mr. Chang, a renowned fixer whose influence extends internationally. But when a relatively minor incident causes tensions to escalate out of control between Chang Enterprises and the Hanabishi, Otomo must return to Japan to settle the score once and for all.
Featuring all the betrayal, double-crossing, and action-filled gun battles of the OUTRAGE series, Jonathan Romney of Screen International said, "This ruthlessly austere Yakuza triptych marks a return to basics for director-star Takeshi Kitano…[It] shows him honing his crime movie craft in a way that consolidates his mastery".
(2017, 104 minutes, Japanese with English subtitles)
Film Movement Plus adds high-octane fuel to the birthday fire with three more Kitano classics: VIOLENT COP (1989), BOILING POINT (1990), and HANA-BI (1997), as well as the bonus extra OUTRAGE OFFSTAGE, a 75-minute "Making-of" documentary, going behind the scenes and all the action of OUTRAGE CODA.
Kitano's explosive debut, VIOLENT COP, introduced the world to a new breed of anti-hero. In the film he portrays a rogue homicide detective investigating a drug-related murder, who seeks vengeance after his sister is kidnapped by a sadistic gangster.
(103 minutes, Japanese with English subtitles)
In Kitano's acclaimed second feature, BOILING POINT, a gas station attendant runs into trouble when the local Yakuza threaten and attack his baseball coach. Both he and a friend get more than they bargained for  when they travel to Okinawa looking to exact revenge.
(96 minutes, Japanese with English subtitles)
And in HANA-BI, the winner of the Golden Lion at the Venice Film Festival, a beleaguered detective looks to set things right in a masterpiece that established Kitano as one of Japan's greatest modern day filmmakers.
(103 minutes, Japanese with English subtitles)
For more information, please visit www.filmmovementplus.com.