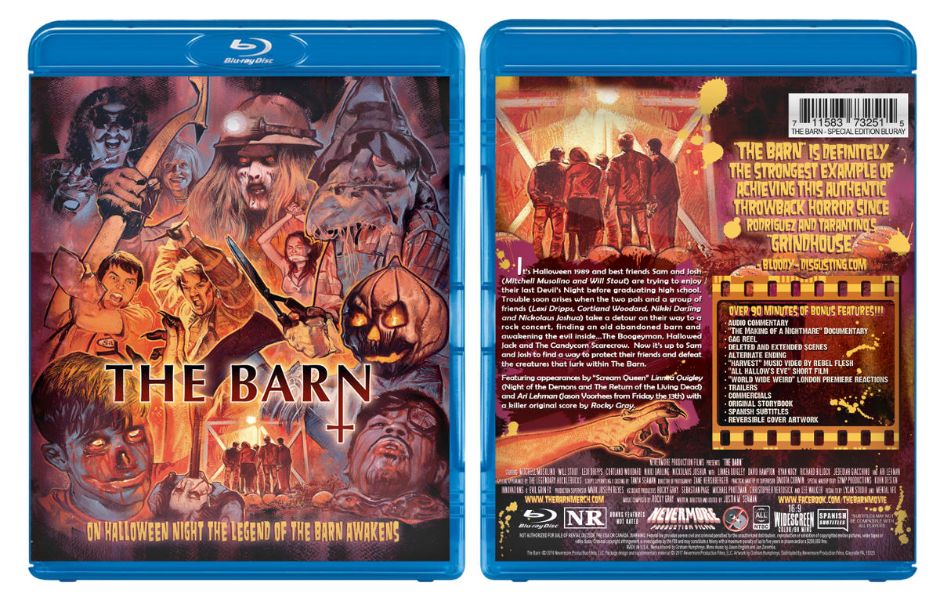 You can now bring home the critically acclaimed and multiple award winning indie Halloween Horror hit The Barn on Blu-ray for $19.99 at www.thebarnmerch.com!
It's Halloween 1989 and best friends Sam and Josh are just trying to enjoy their last "Devil's Night" before graduating high school. Trouble soon arises when the two pals and a group of friends take a detour on their way to a rock concert, finding an old abandoned barn and awakening the evil inside. Now it's up to Sam and Josh to find a way to protect their friends and defeat the creatures that lurk within The Barn…
The film stars Mitchell Musolino, Will Stout, Lexi Dripps, Cortland Woodard, Nikki Darling, and Nickolaus Joshua, with Linnea Quigley (Night of the Demons and Return of the Living Dead) and Ari Lehman (the first Jason Voorhees from Friday the 13th). Featuring an original score by Rocky Gray, the former member of Grammy award-winning goth/rock group 'Evanescence.'
This Special Edition Blu-ray is a jammed pack trick-or-treat bag full of over 90 minutes of bonus goodies. It also includes a reversible insert sleeve featuring the classic "Sadist Art Designs" artwork on one side and a brand new design by the legendary film poster illustrator Graham Humphreys on the other, showcasing iconic scenes from the film.
"I've always been huge fan of Graham Humphreys artwork, so I was shocked when I heard he attended the film's London premiere at "World Wide Weird" and enjoyed The Barn so much that he wanted to create an original piece. I got in contact with him and told him I was looking to do some new art for the Blu-ray release, but this time I wanted to show scenes from the film and incorporate the cast. There is a bonus feature on the disc that includes audience reactions created by filmmaker Emma Dark from the London show, and Graham is one of them. During this filmed interview is when he actually suggests that I reach out to him about it, so it's pretty cool to watch that and then pick up the Blu-ray cover and see that it actually happened," said writer and director Justin M. Seaman.
THE MAKING OF A NIGHTMARE is nearly an hour-long documentary that tells the story of how the film began as a childhood dream and what it took for a group of dedicated individuals to create the finished project. Including interviews from the cast and crew as well as Linnea Quigley, Ari Lehman, and Rocky Gray.
Feature Film: 80 Mins (UNRATED)
Bonus Content Info:
Audio Commentary by Justin M. Seaman (Writer/Director), Mitchell Musolino (Actor – "Sam") and Zane Hershberger (Director of Photography)
"TheMaking of a Nightmare" Documentary – Cast and Crew Interviews (Including Ari Lehman, Linnea Quigley and Rocky Gray)
Gag Reel
Deleted and Extended Scenes
Alternate Ending
"Harvest" Music Video by Rebel Flesh
"All Hallow's Eve" short film
"World Wide Weird" London premiere reactions
Trailers
Commercials
Original storybook
Reversible cover artwork by Marc Schoenbach and Graham Humphreys
Number of Discs: 1
Single Layer Blu-ray Disc (25GB)
Region Free (Factory Pressed/NOT BD-R)
Unrated/Color/16:9 Widescreen/80 Mins
Subtitles: Spanish
Now available for $19.99 at www.thebarnmerch.com