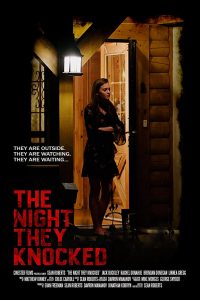 The Night They Knocked (Cinester Films) is a new feature-length horror film written and directed by Sean Roberts, and nominated for Best Feature Film / Best Director at the 2019 New Jersey Horror Con and Film Festival.
From the official website:
In the heart of the Pocono Mountains in Pennsylvania, a group of college students staying in a secluded vacation home enjoy one last weekend together before graduation.
In what was intended to be an idyllic weekend getaway, drama between friends and a brooding sibling rift threaten to send the weekend spiraling out of control.
Just when it seems like tensions are at their peak, a knock at the door propels the night into mayhem and brutality as a pair of homicidal maniacs besiege the home with bats and box cutters.
View the trailer here: