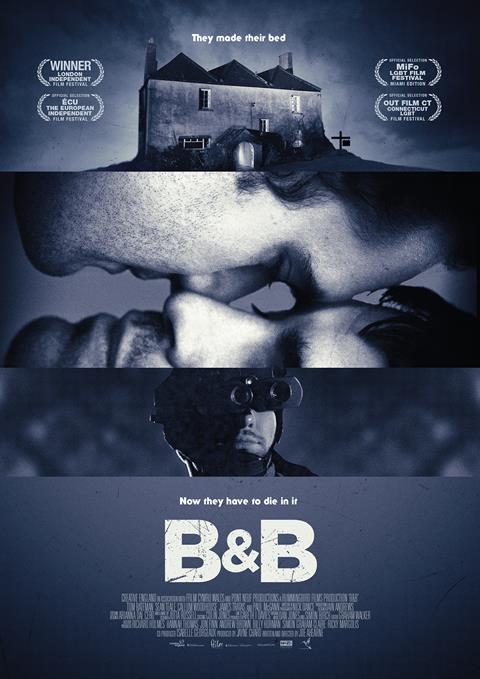 The film that The Hollywood Outsider calls "A Thriller Hitchcock Would Be Proud Of" and that Cryptic Rock rated with 4 Stars, has recently won three awards at the Horrible Imaginings Film Festival in San Diego:
Best Director of a Feature Film: Joe Ahearne – B&B
Best Actor in a Feature Film: Paul McGann – B&B
Best Score in a Feature Film: Simon Birch and Dan Jones – B&B
B&B had previously won Best LGBT Feature at the London Independent Film Festival.
They made their bed now they have to die in it.
A couple of gay guys get more than they bargained for when they bait the owner of a remote Christian guest house. Mischief turns to terror when a Russian neo-Nazi checks in.
SYNOPSIS:
Marc and Fred exercise their civil rights by checking in at a B&B run by devout Christian Jeff and his teenage son Paul. Jeff has already been successfully sued after he refused them a double bed. Our heroes have come back to demonstrate who's in the minority now. All goes to plan until a thuggish Russian checks in. Is Alex a fellow gay campaigner or a neo-Nazi come to support homophobia overseas? The gag quickly runs sour as our couple begin to fear they've been set up for a beating. A terrifying death occurs but not the one we've been expecting. When Marc and Fred uncover a cold-blooded murder they realize they're next.
The couple is played by Tom Bateman (Kenneth Branagh's Murder On The Orient Express, Amy Schumer's Snatched) and Sean Teale (Bryan Singer's Gifted, Ben Affleck's Incorporated), and the B&B owner is played by Paul McGann (Withnail & I, Doctor Who).
US / CANADA
Theatrical Release date: October 13th at Cinema Village in New York, NY.
VOD and DVD Release date in the US & Canada: October 17th.
VOD Platforms: iTunes, Google Play, Xbox, and through Shaw and other local cable providers.
UK
Theatrical Release dates: from October 17th at Hampstead Everyman Cinema in London. A Q&A with writer-director Joe Ahearne and actor Paul McGann will be held during the opening screening on October 17th.
DVD and VOD Release date in the UK:October 23rd.
VOD Platforms: iTunes, Amazon Video, Google Play, Sky Store.