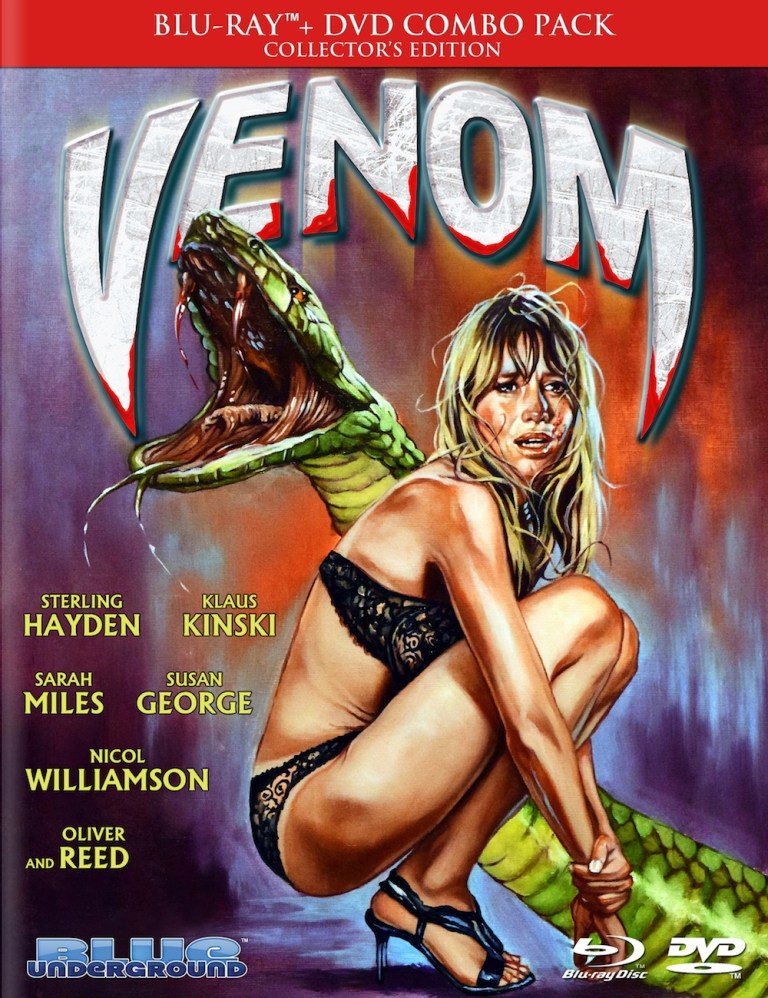 Behind the drapes… Between the walls… In your bed…
A thriller to make your skin crawl!
It was supposed to be the perfect crime: the sexy maid (Susan George of STRAW DOGS), a psychotic chauffeur (Oliver Reed of THE BROOD) and an international terrorist (the legendary Klaus Kinski) kidnap a wealthy ten-year-old boy from his elegant London townhouse. But they didn't count on a murdered cop, a desperate hostage siege, and one very unexpected houseguest: a furious Black Mamba, the most lethal and aggressive snake known to nature. It can attack from ten feet away. Its bite brings excruciating death. And it is on the loose. Now, terror knows no antidote… and the ultimate in slithering mayhem is VENOM.
Sterling Hayden (THE KILLING), Nicol Williamson (EXCALIBUR) and Sarah Miles (BLOW-UP) co-star in this gripping suspense thriller based on the novel by best-selling author Alan Scholefield and directed by Piers Haggard (THE BLOOD ON SATAN'S CLAW). VENOM has been newly transferred in 2K High Definition from its negative and features some very real – and extremely deadly – Black Mambas!
Extras:
Audio Commentary with Director Piers Haggard
Theatrical Trailer
Teaser Trailer
TV Spots
Poster & Still Gallery
BONUS Collectible Booklet featuring new writing by Fangoria Editor Michael Gingold
If you suffer from extreme ophidiophobia, then Venom probably isn't the flick for you. Unless, of course, you're just into that sort of thing. The rest of us who adore the movie, however, can pick up a copy of the Blu-ray on May 31, 2016.