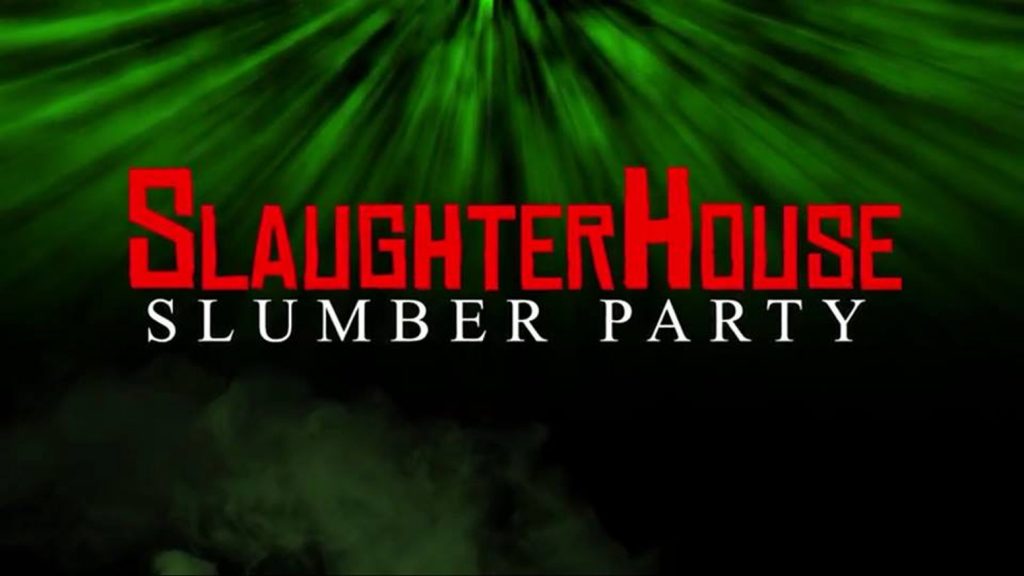 Quick info: Following a successful Kickstarter campaign in 2018, Dustin Mills Productions is proud to present the first teaser trailer for SLAUGHTERHOUSE SLUMBER PARTY. This teaser trailer is being released in advance of the movie's fall/winter festival and convention run, with a premiere to be announced soon. This censored teaser is mostly safe for work, but in this case it's still kind of not safe for work! A full trailer will be released closer to the film's premiere.
Film Synopsis: What started as the debauched annual slumber party for a tight knit group of gal pals becomes a fight for their lives when supernatural evil threatens to destroy the world–and even worse, ruin the one night of the year the ladies get to have a nude pillow fight. Trapped by magic, surrounded by evil, and very underdressed, will they survive the night? Or will this slumber party become a slaughterhouse? SLAUGHTERHOUSE SLUMBER PARTY is the unholy hybrid of HARD TO DIE, EVIL DEAD II, and PARKS & REC the world never knew it needed.
Cast:
Kayla Elizabeth (OUIJA: BLOOD RITUAL, DON'T FUCK IN THE WOODS 2)
Ariel Jarchow (JUST YOUR AVERAGE HALLOWEEN PARTY)
Roni Jonah (HI-8, VOLUMES OF BLOOD)
J. Ania Lupa (HORNDOGS BEACH PARTY)
Haley Jay Madison (HUNTERS, HEADLESS, IN MEMORY OF)
Eve Moreau (Feature debut)
Erin R. Ryan (BABYSITTER MASSACRE, APPLECART, DEVIL'S TRAIL)
Alyss Winkler (SPACE BABES FROM OUTER SPACE, THE BAD MAN)
Melissa Sue Zahs (OUIJA: BLOOD RITUAL)
Kickstarter link: http://www.slaughterhouseslumber.party
Instagram: instagram.com/dustin.w.mills
SLAUGHTERHOUSE SLUMBER PARTY on IMDB: https://www.imdb.com/title/tt10771232/reference
SLAUGHTERHOUSE SLUMBER PARTY on Letterboxd: https://letterboxd.com/film/slaughterhouse-slumber-party/
About Dustin Wayde Mills: Since releasing his debut feature THE PUPPET MONSTER MASSACRE in 2010, Dustin Wayde Mills has directed over a dozen feature films ranging from the Troma-esque insanity of EASTER CASKET to bleak extreme horror in the HER NAME WAS TORMENT films and even some more family-friendly genre fare with HALLOWEEN SPOOKIES. He has also worked on visual effects and makeup for films such as SUPER TASK FORCE ONE, HARVEST LAKE, SPACE BABES FROM OUTER SPACE, and HOVER in addition to his own films. SLAUGHTERHOUSE SLUMBER PARTY is by far Mills's most ambitious single feature project to date, melding a wide array of his influences and interests into one wildly over-the-top comedic thrill ride.