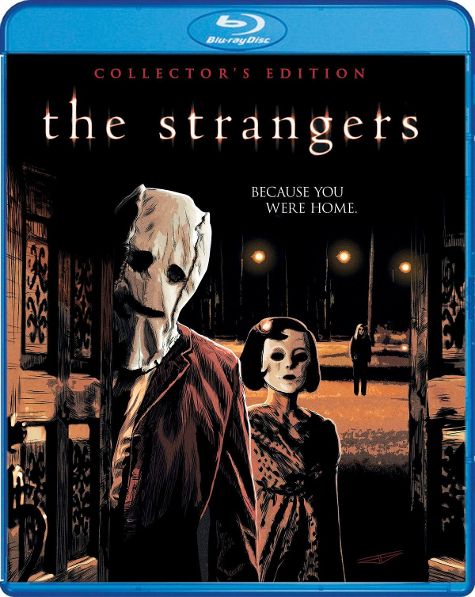 At Comic-Con this year we announced that a 10th anniversary Blu-ray of the home-invasion blockbuster would be coming soon from us and today we have some more exciting information on it to share with you today!
• Official street date is March 6th, 2018–just ahead of the next film Strangers: They Prey at Night, which opens up in theaters on March 9th.
• This is a 2-Disc set that will contain both the theatrical and unrated versions of the film. It will be branded as a "Collector's Edition" that will come with a slipcover (guaranteed for three months after its original release date), U.S. and Canada territories (Region A).
• The newly-commissioned artwork pictured comes to us from the CRP Group (Firestarter, Rabid, Species, Drag Me to Hell). This art will be front-facing and the reverse side of the wrap will be a cool variant from the original theatrical exploration.
• Extras and specs are still in progress and will be announced at a later date. However, we can confirm today that we will be doing a brand new film transfers.
Pre-order now directly from our website @ https://www.shoutfactory.com/…/the-strangers-collector-s-ed… to get the product two weeks early from national street date, plus you'll receive a free collectible 18" x 24" rolled poster of the newly-designed key art (while supplies last).