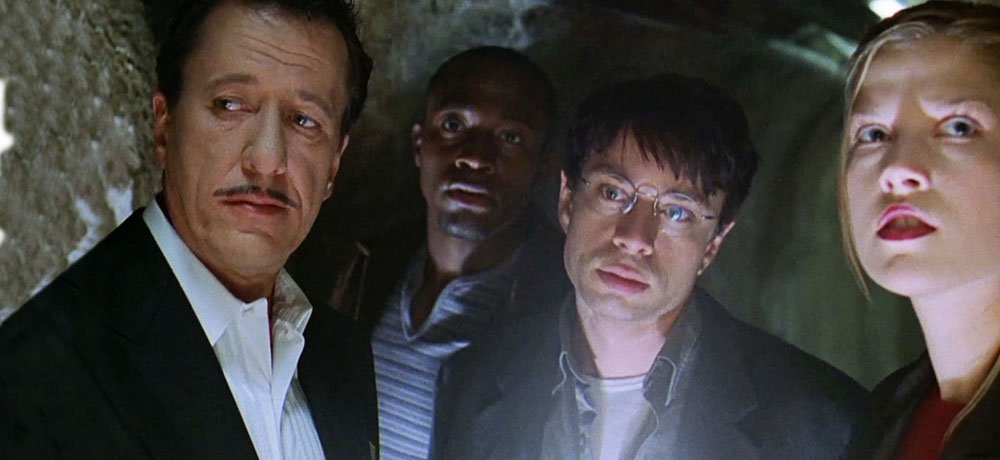 Get ready to spend the night in a mansion full of the macabre as the 1999 remake of HOUSE ON HAUNTED HILL is (finally) coming to Blu-ray from us this Fall! Here are the early details we have at present time:
This will be branded as a "Collector's Edition" that will come with a slipcover (guaranteed for three months after its original release date). U.S. and Canada territories (Region A).
Extras and specs are still in progress and will be announced later in September. What we can confirm today is that we will have a new high-definition transfer of the film and a new interview with Director William Malone. Extras from the previous DVD release will be ported over and more new interviews are underway.
The newly-commissioned artwork pictured comes to us from Joel Robinson (Silent Night Deadly Night, The Serpent and the Rainbow, Ninja III, etc). This art will be front-facing and the reverse side of the wrap will the original theatrical poster design.
National street date is planned for Oct 9th. However, if you pre-order now for early shipping directly from us @ https://www.shoutfactory.com/product/house-on-haunted-hill-collector-s-edition?product_id=6860 you will also receive an 18′ x 24″ rolled poster of the newly-commissioned art.