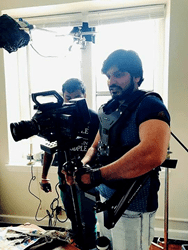 Kartik Garimella is used to being under the spotlight as the leading man for several Indian films, but the Tollywood actor-turned-cinematographer is commanding the spotlight in a different way as Director ofPhotography in the U.S. with the launch of Paranormal Monster's Society, a new web series premiering in April 2018.
The Paranormal Monster's Society series, directed by Carlos Fraile and Edward McGinty, is about a group of misfit supernaturals who band together to rescue other supernatural beings before they become victims to monster hunters. The series is also written by Al Domino. Garimella is Director of Photographer for the series, which is scheduled to be on a channel that will be announced in early 2018.
Garimella recently brought his artistic flair to the critically-acclaimed short film "Vena Amoris," a narrative short film, which won official selection at the 2017 Pittsburgh Film Festival in June with Garimella at the helm of Cinematographer for the project. The 8-minute short horror and mystery film focuses on an unfaithful husband who murders his mistress and becomes haunted by an unexplainable entity.
"Vena Amoris was one of the most thrilling projects I've worked on as a cinematographer and I'm immensely proud it was considered an official selection. It was an inspiring project that I will remember fondly as I focus on my next projects," Garimella said.
Garimella has been a part of several notable independent films, including Nympho's Diary, I Wanna Play, and Lilith Come Out, which won Festival Prize at the 2017 Alternative Film Festival. His Director of Photography credits also include music and fashion videos.
Garimella, who speaks Hindi, Telugu and English, earned a diploma in filmmaking from Whistling Woods International in India. He also attended New York Film Academy in LA where he studied Cinematography.
Garimella is currently working on a gritty, full-length horror film called Ghost Written, which is slated for release next year.
"I'm overjoyed to have worked with incredibly talented people over the years on productions that I can be proud of when I look back. For now, I'm looking forward to bringing my creativity as a cinematographer to riveting projects," he said.
Connect with Kartik Garimella on his website at http://www.kartikgarimella.com. Follow him on social media – Facebook at https://www.facebook.com/kartik.garimella.7.