---
As the original publisher is no more, Deadfall has been re-released as an eBook only. This is a revised edition with a bonus alternative ending (it was the original ending before I changed it) and with a new cover. I call this the 'Author's cut.'

A team of mercenaries race to an abandoned mining village to rescue two children held hostage by rogue ex-soldiers. But the kidnappers are a ruse, the real threat more terrifying than any of them could imagine.

Aided by a couple of unsuspecting eco-warriors, mercenary team leader Amber Redgrave must fight to survive against foes that don't sleep and don't feel pain.

Now as the body count rises, so do the stakes, and when the dead won't stay dead, there's going to be hell to pay.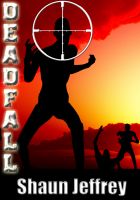 Amazon.co.uk: http://amzn.to/eqE01J
Amazon.com: http://amzn.to/fZIsdO
Smashwords: https://www.smashwords.com/books/view/48929