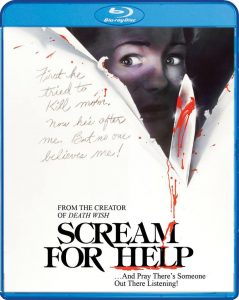 SCREAM FOR HELP – the 1984 cult classic thriller from Director Michael Winner (Death Wish, The Sentinel) — is screaming to Blu-ray for the first time this September! (And if you've never seen it, you're in for a wild ride, trust us.)
Terror invades an upper-class New York community as 17-year-old Christie Cromwell cleverly uncovers her stepfather's horrifying plot to murder her wealthy mother. She's on to him, yet no one will believe her because she's just a kid: smart, imaginative, maybe she's just taken a crazy idea to the limit. Suspense builds when a series of shocking events confirms her worst fears. Alone, afraid and helpless, terrified Christie and her mother are held prisoner in their own home at the mercy of ruthless killers.
Extras are in progress and will be announced on a later date.
National release date is September 18th but if you pre-order directly from us we'll ship it out two weeks early!
https://www.shoutfactory.com/product/scream-for-help?product_id=6830