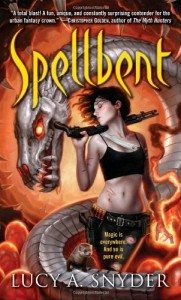 People have been asking me about my experiences in Goddard College's Master of Fine Arts in Creative Writing program, so I thought I would do a series of blog posts on the subject.
I have been writing for publication for over 20 years. I started pursuing my writing seriously while I was working on my master's degree in journalism at Indiana University. In the summer before I graduated, I attended the six-week Clarion Science Fiction and Fantasy Writers' Workshop at Michigan State University (it has since moved to the University of California at San Diego). At that workshop, I worked with instructors such as Tim Powers and Samuel R. Delany who helped me onto the path of becoming a fiction author. During that workshop, and afterward, I spent a lot of time thinking about genre fiction and developing my writing process.
After the Clarion workshop, I decided that I want to master as many styles and genres of writing as I possibly can. I decided that I want to be the kind of professional who can write anything, write it well, and deliver it on time. If an editor approaches me and says "We'd like you to write a narrative sestina that re-tells the myth of Daedalus in a near-future dystopian setting; what do you think?" or says "We need a 4,000-word, first-person Lovecraftian story set in Victorian England," I feel that my response should be "Why yes, I can do that; when do you need it?"
I pursued my writing goals and sold dozens of short stories and poems to a wide range of competitive publications. I also sold several collections, and Del Rey published three of my novels. In short, things were going well.
But I also realized I wanted to develop more depth as a writer. I missed the intense study experience of Clarion and wanted to connect with a new, vibrant community of writers. I wanted to gain new practical and theoretical knowledge and the stronger grounding in literary fiction and writing theory. I wanted to do substantial work in a form I had not attempted before.
And so I decided to start applying to Master of Fine Arts (MFA) in creative writing programs. Specifically, I wanted to apply to a program with a low-residency format, which would enable me to continue living in Columbus while I pursued my degree. I knew I'd have to attend in-person residencies at the college campus twice a year, but I wouldn't have to pull up stakes and move to a strange town.