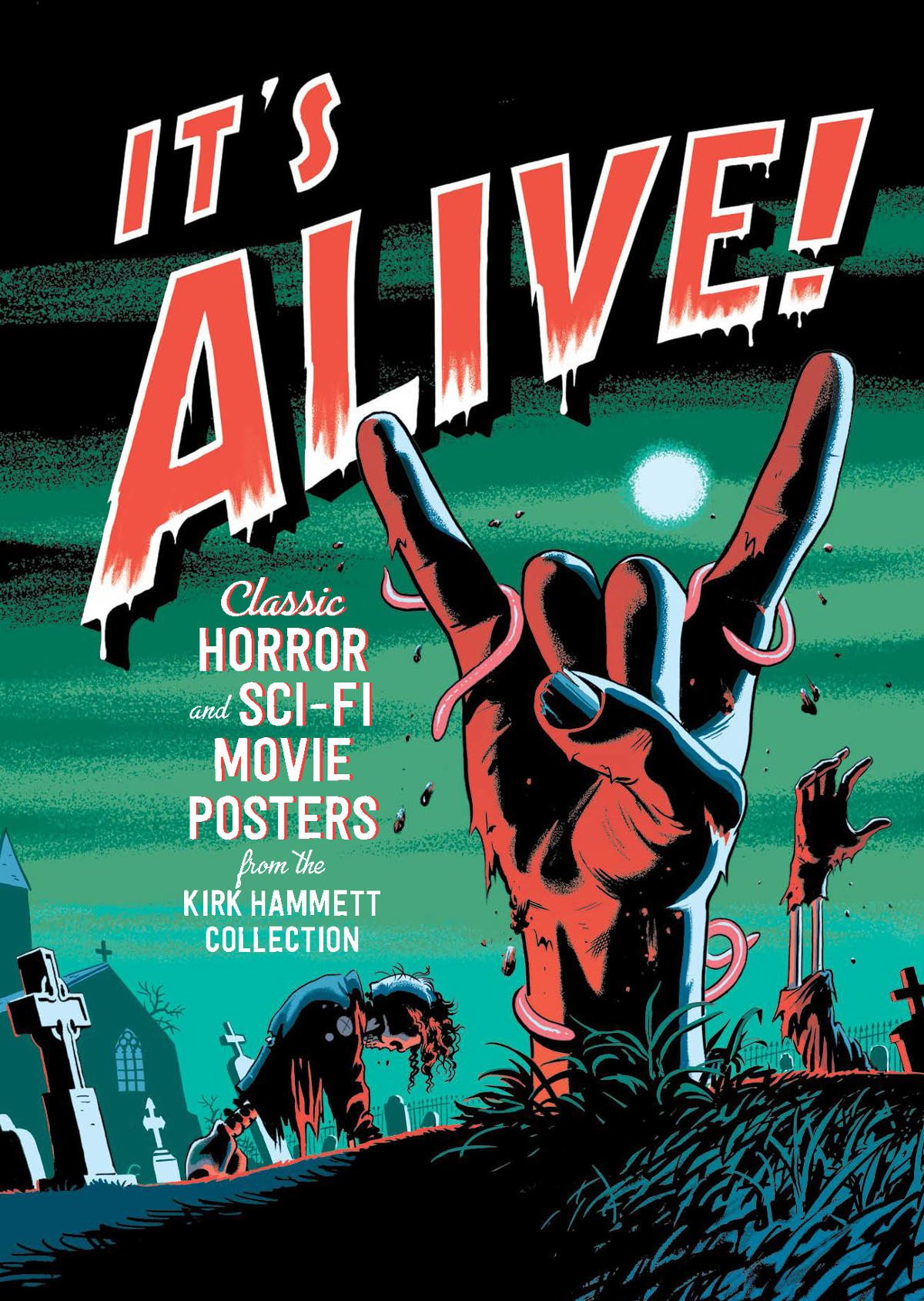 Uttered in several Frankenstein films since 1931, and titling Larry Cohen's 1974 horror classic, "It's alive!" is one of those kitschy, catchy phrases that become part of the vernacular.
IT'S ALIVE: CLASSIC HORROR AND SCI-FI MOVIE POSTERS FROM THE KIRK HAMMETT COLLECTION—in both exhibition and book form—offers an unconventional look at the world of horror and science fiction art. Through an international selection of the greatest film posters of this genre, fans and aficionados are invited to explore the power of graphic design and the manner in which poster art communicates and evokes emotion.This handsome volume showcases the impressive personal collection of Metallica guitarist and horror movie buff Kirk Hammett, which also accompanies an exhibition at the Peabody Essex Museum in Salem, Massachusetts, scheduled to run from August 12 through November 26, 2017.
From the age of six, Hammett gathered toys, ephemera, and memorabilia from his favorite films, and a plethora of these gems made their way into IT'S ALIVE! Complementing the archival materials is PEM's Russell Knight Curator of Maritime Art and History Daniel Finamore's essay investigating the horror poster from an art historical perspective, delving into how the works convey horror graphically, and how the genre itself reflects on societal issues and fears.
Neuroscientist Joseph LeDoux's text draws on recent findings to reveal why we enjoy the thrill of watching horror flicks and what happens to the brain when the fear response is triggered. Writer Steve Almond's section of the book takes an in-depth look at Hammett's passion on the subject, from his eclectic collection of movie art and magazines to founding an annual fright fest.
From classics like Dracula, Frankenstein, and The Wolf Man to cult favorites like Blacula and Barbarella; from blockbusters such as Rosemary's Baby and Alien to lesser-known pictures like Invasion of the Saucer Men and I Walked with a Zombie—and,of course, The Day of the Triffids, the motion picture cited as launching Hammett's lifelong obsession with horror—IT'S ALIVE is the ultimate collection of horror and sci-fi movie posters amassed by the dark mind of Kirk Hammett.